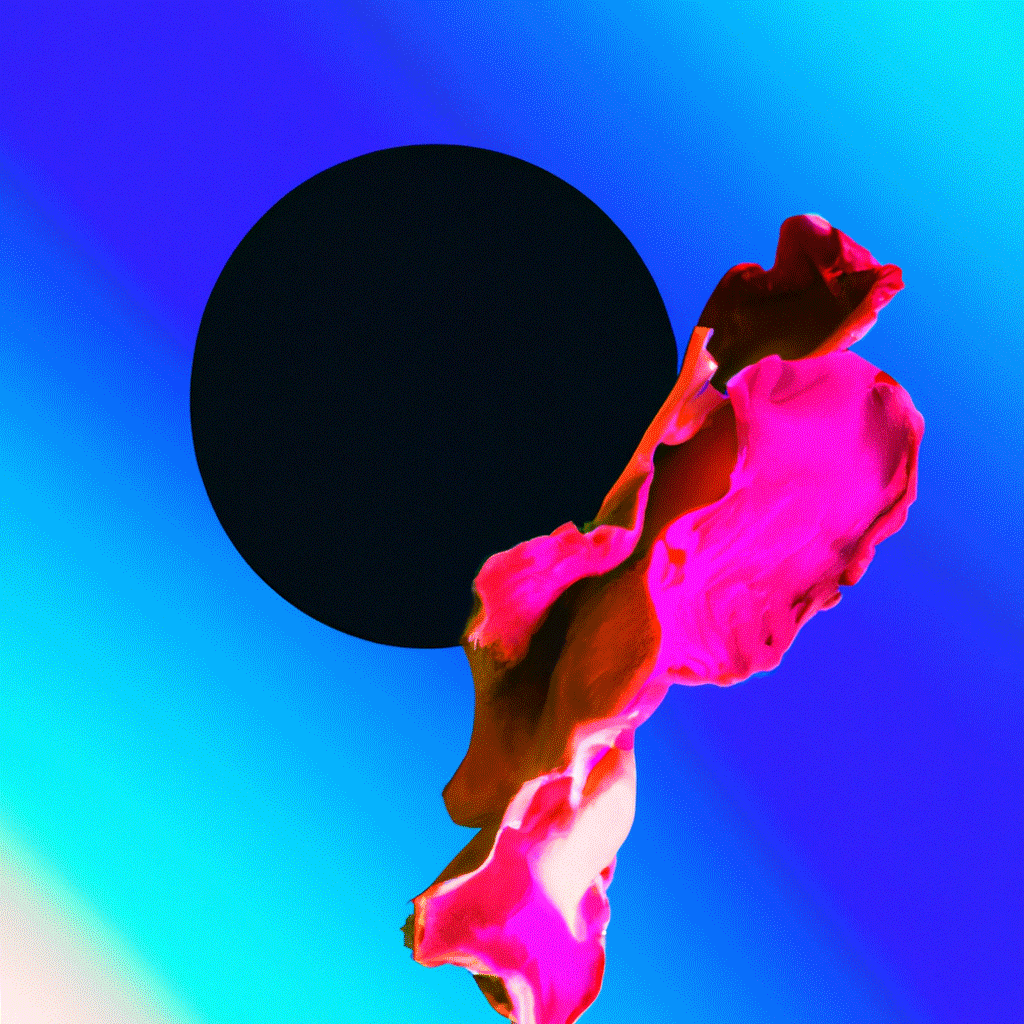 Compulsive Desires:
On Lithium Extractiuon and Rebellious Mountains
25.03 - 28.05.2023
Compulsive Desires — The Extraction of Lithium and Rebellious Mountains addresses the entanglement between extractivism and exhaustion, productivity and burn-out, across scales. Curated by Marina Otero Verzier, the exhibition takes as its starting point the ongoing lithium extraction plans in the North of Portugal and the struggles sustained by local communities for their lives and rights. Battles that emphasize how, in what has been described as "green colonialism", the development of the "renewable energy futures", too often involves the dispossession of communities and degradation of ecosystems.

Whereas the mining industry — and capitalism cravings — subjugates and exploits the mountain and its inhabitants treating them as resources to be extracted, the violence is turned into a force for survival for these communities through collective infrastructures and embodied rituals. If mining results in social, ecological, and mental breakdown, these practices, alongside artistic expressions, break social order to create counter worlds merging the individual and the collective, the ancestral realm and future generations, the human and more-than-human, and unleashing alternative understanding of energy.
Curated by Marina Otero Verzier

With
Amável Antão, Anastasia Kubrak, Carlos Irijalba, Giuliana Rosso, Grupo de Investigação Territorial (Antonio del Giudice, Godofredo Enes Pereira, Jacob Bolton, Mingxin Li, Tiago Patatas), Heitor Cramez, Isidro Rodrigues, Jonas Staal & Radha D'Souza, Jonathan Uliel Saldanha, Lara Almarcegui, Leanne Wijnsma, Lithium Triangle Research Studio + Nicolas Jaar, Maarten Vanden Eynde & Edmond Musasa, Medios Libres con la Gira Zapatista, Naomi Rincón Gallardo, Natalia de la Rubia Kozlowska, Orlando Vieira Francisco, Povo de Covas do Barroso & Paulo Carneiro, Susana Caló, Susana Soares Pinto, Tanguy Pitavy, Tomás Saraceno & Aerocene Foundation.
Music Between Companion Species
May - November 2023
Music between Companion Species is a series of concerts conceived and performed for and with dogs, their human companions and other more-than-human presences who may join these sessions. Inspired by Donna J. Haraway's Companion Species Manifesto and by cientific studies about dog's preferences for sound and music, the concerts will take into account these animals' unique sensibilities and hearing capabilities. Curated by Lovers & Lollypops.
Curated by Lovers & Lollypops
Paulo Cunha e Silva Art Prize
17.06-20.08.2023
Created by the City Council as a tribute to the late Councillor for Culture Paulo Cunha e Silva (1962 – 2015), a central figure for the city's artistic life, the award, held every two years in Porto, recognises the talent of new generations of national and international artists. This year's edition underlines the Prize's commitment to fostering creation and cultural exchange by establishing a partnership with three world-recognised residency programmes: Arquipélago Centro de Artes in S. Miguel, Azores, Cove Park, on Scotland's west coast, and Pivô, in São Paulo, will all host one of the nominated artists, appointed by a jury of three members.
The Nominators for the 2023 edition of the Art Prize are:
Artist Ângela Ferreira, Jan van Eyck Academie Director Hicham Khalidi, and cultural programmer Tabitha Thorlu-Bandura.

With
Euridice Kala, Márilu Namoda and Luis Santos (nominated by Ângela Ferreira); Rouzbeh Akhbari, Kent Chan and Hira Nabi (nominated by Hicham Khalidi) and Maren Karlson, Malik Nashad Sharpe aka Marikiscrycrycry, and Eve Stainton (nominated by Tabitha Thorlu-Bandura).
Duet
Maria Paz and Joan Jonas
16.09 – 19.11.2023


Duet is an invitation for two artists to share an exhibition space. It started as a proposal for a young artist from Porto to think of an artist they would like to share an exhibition with. Recalling the impact of her survey show at the Serralves Museum, Maria Paz invited Joan Jonas to share the exhibition space of the Galeria Municipal do Porto. In this transatlantic exchange of generations, the two artists will reveal their common investigations of forms, colours and materials.
Curadoria de Filipa Ramos
The Sylvan and Harsh North
09.12.2023 – 10.03.2024
What are the meteorological patterns, the myths and stories, the rhythms, colours and shapes, the human and nonhuman inhabitants that make up the Iberian Northwest, in its reality and fiction?
Wondering about the rituals and expressive modes of people, animals, plants, elements and minerals, we went looking for the roots, terminations and tentacles of the Iberian Northwest, trying to locate the places where they might reside. In doing so, we considered the past but above all faced the present-future of these concrete and imagined spaces between seas, woods and settlements. The Sylvan and Harsh North is an exhibition that follows roads and lines of intensity, centrifugal forces that take us beyond Porto, towards those supposed margins where permutations erupt, to discover and share the references, stories, words and connections to these places with a long past and an even longer future.
Curated by Filipa Ramos and Juan Luis Toboso
ping!
Gineceu + Estigma
The
Gineceu & Estigma
programme - whose epicentre is the Gardens of the Palácio de Cristal - aims to make people aware of new perspectives linked to the universe of Botany, through artistic creation and research into gender, politics and nature.
The programme includes conferences, workshops and interpretative courses on the botany of the garden, designed by researchers and guest artists, structured around two themes: Ecopensamento, which begins with ecocritical studies to foster discussion about new possibilities of interdependence between the natural, social and political domains; and Especulações Botânicas, in which questions are introduced that have been raised by artists about the science dedicated to the study of plants, such as the scientific nomenclature of species and recognition of empirical and popular knowledge about their healing powers.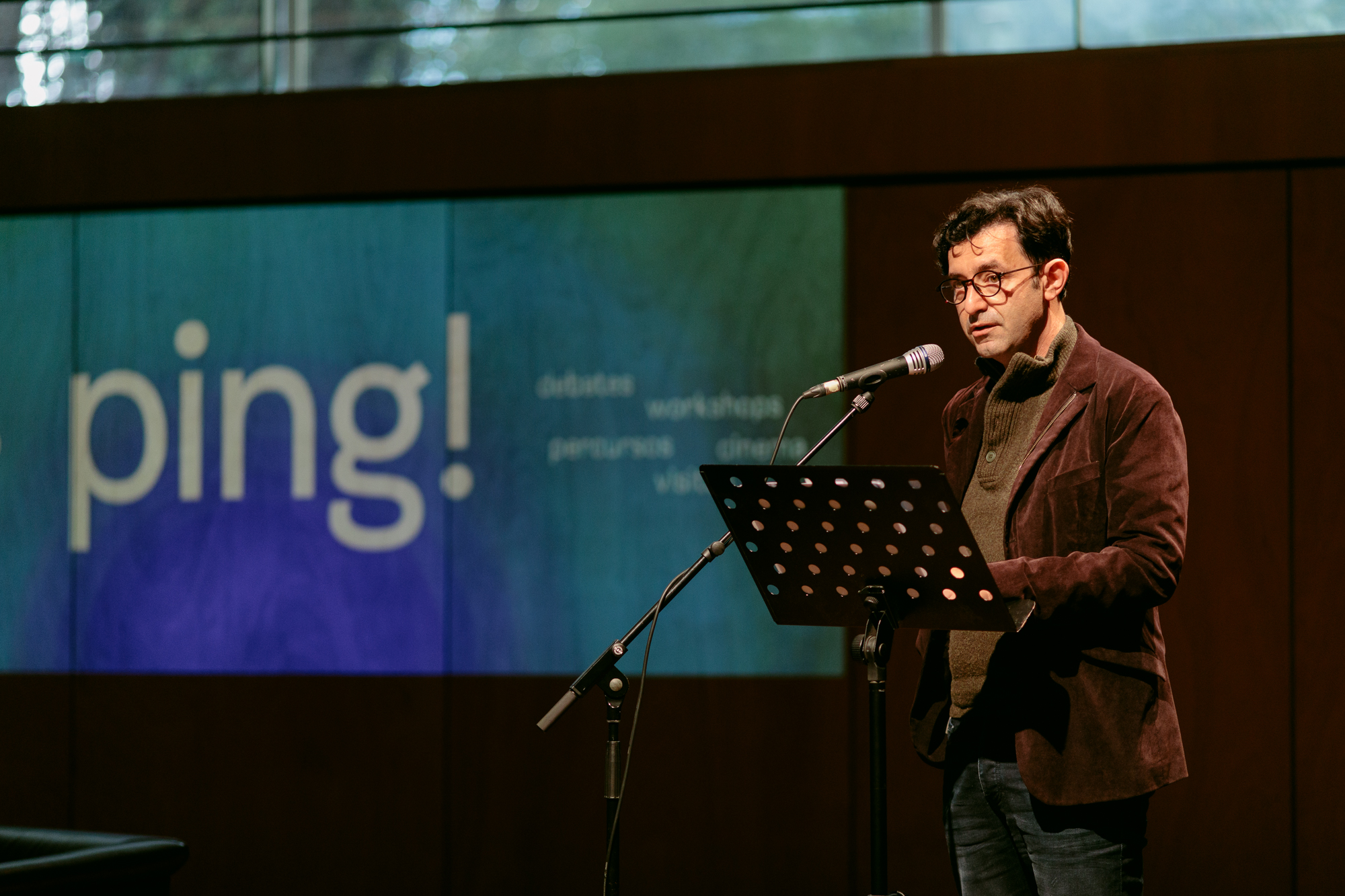 Thursday, April 29, at 7pm
Conference with Michael Marder – Que tipo de crianças somos nós? Um caso para o cultivo vegetal da humanidade. Moderation by Mariana Pestana
ping! — Programa de Incursão à Galeria
Gineceu & Estigma / Ecopensamento
Michael Marder
is Research Professor of Philosophy at the University of the Basque Country, UPV/EHU, Vitoria-Gasteiz. His work spans the fields of environmental philosophy and ecological thought, political theory, and phenomenology. Marder is associate editor of Telos magazine and author of 16 monographs, such as Dump Philosophy (2020), Political Categories (2019), Energy Dreams (2017), The Philosopher's Plant: An Intellectual Herbarium (2014) and Plant-Thinking: A Philosophy of Vegetal Life (2013).


Mariana Pestana
is a Portuguese architect and curator. She co-founded the collective The Decorators, with whom she developed spatial interventions and performative situations in the public realm, with the aim to test alternative futures for specific places and people. She recently curated the 5th Istanbul Design Biennial and co-curated the exhibitions The Future Starts Here (Victoria and Albert Museum, UK, 2018) and Eco Visionaries: Art and Architecture After the Anthropocene (MAAT, Portugal, 2018; Matadero, Spain, 2019; and Royal Academy, UK, 2019).
Location
Biblioteca Municipal Almeida Garrett auditorium.

To participate in the conference the free ticket must be collected (maximum 2 per person) up to 15 minutes before the event starts. Reservations can be made in advance by emailing galeriamunicipal@agoraporto.pt.

Photography: Renato Cruz Santos
Thursday, June 10, from 4pm to 6pm
Walk along the gardens with Círculo das Leitoras Peripatéticas
ping! — Programa de Incursão à Galeria
Gineceu & Estigma / Ecopensamento
The trees, the roots, the flowers, the shells, the statues, the fountains, the walks, the silenced ones, the grass, the weeds, the peacock, the garden, the nature, the experience, the change, the justice, the renovation. The CLP's propose an animated reading of words, images, music, sounds, and other additives, which take root in the Acoustic Shell, but take us along the garden through three narratives, three different routes, which end up meeting and crossing paths. The common link is to bring down the statue-muses without a voice, stirring the bottom of the lake, and revealing the stories of women creators, literates, botanists, artists, singers. In the end, the dance is at the bottom of the sea around the shell.
The group
Círculo das Leitoras Peripatéticas
is comprised by Sofia Gonçalves, Susana Gaudêncio and Susana Pomba. In 2014, the artists attended a residency at the Moinho da Fonte Santa, in an isolated geographical area in the municipality of Alandroal, Alentejo, where they worked with materials from the Biberstein ‑ Gusmão Library to write a script that was read during a walk around the Moinho (water mill). This residency, entitled
Elogio ao tempo lento
, resulted in the first edition of the collective, composed of three 'librettos' presented as access routes to the library and its surrounding landscape.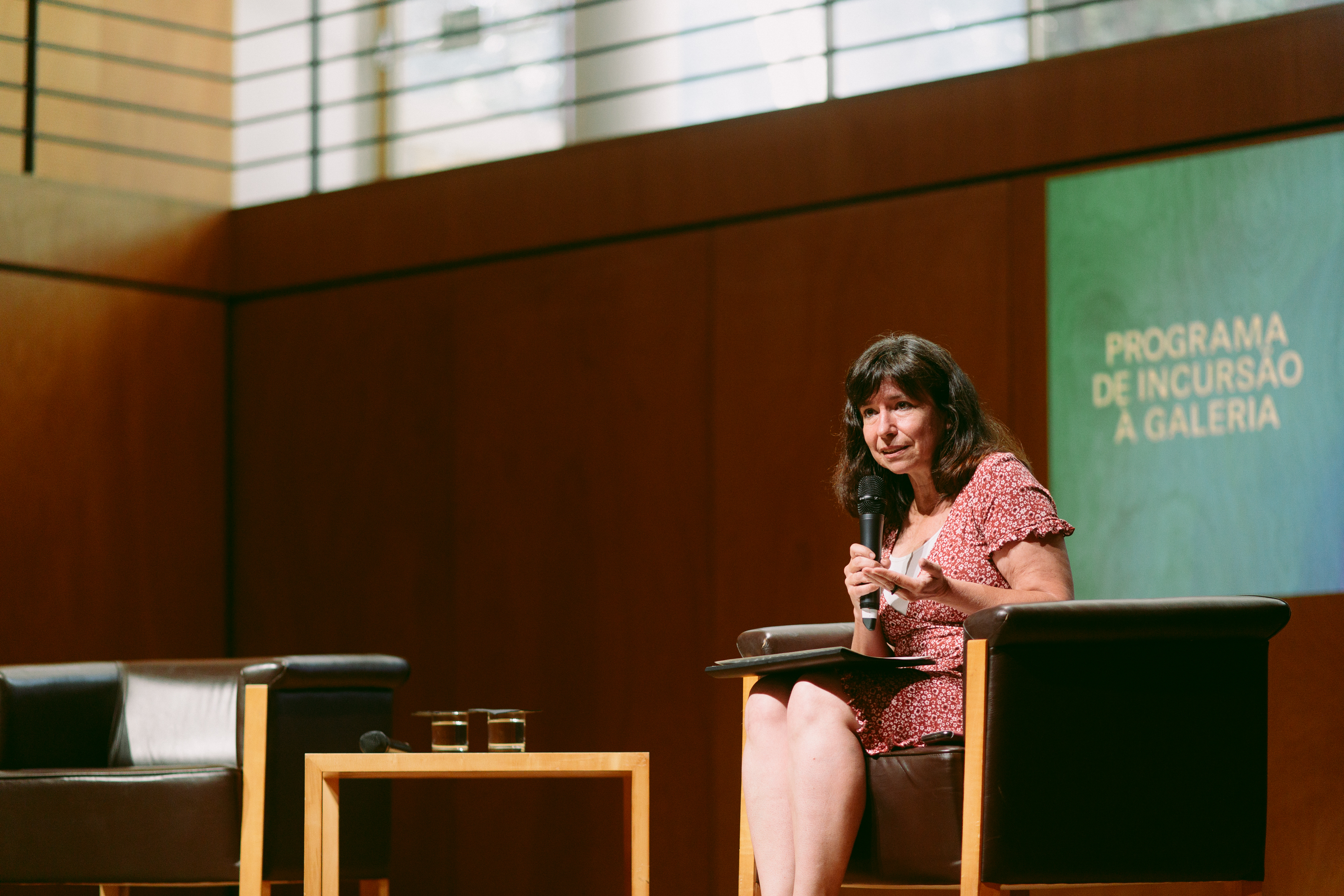 Thursday, July 1, at 7pm
Conference with Yayo Herrero – Pensar como uma árvore: Ética e Estética recompõem os laços quebrados com a terra. Moderation by Marta Lança
ping! — Programa de Incursão à Galeria
Gineceu & Estigma / Ecopensamento
Yayo Herrero
is a Spanish anthropologist, engineer, professor and activist known for her expertise in ecofeminism and ecosocialism at European level. She was the state coordinator of Ecologists in Action and has extensive experience in numerous social initiatives on human rights and social ecology. She is currently a professor at the National University of Distance Education and the general director of FUHEM.
Marta Lança
is a Phd student on Artistic Studies at FCSH - Universidade Nova de Lisboa where she holds a postgraduate degree in Portuguese Literature. She has been working as a journalist, translator, editor and producer. In 2010, she created the BUALA portal. Recently she organised the meetings Sou esparça and massive liquidity: gestures of freedom (MAAT, Portugal, 2020) and Terra Batida: a network of art and science on socio-environmental conflicts (Festival Alkantara, Portugal, 2020), with Rita Natálio.
Location
Auditorium of Biblioteca Municipal Almeida Garrett.

To participate in the conference the free ticket must be collected (maximum 2 per person) up to 15 minutes before the event starts. Reservations can be made in advance by emailing galeriamunicipal@agoraporto.pt.

Photography: Renato Cruz Santos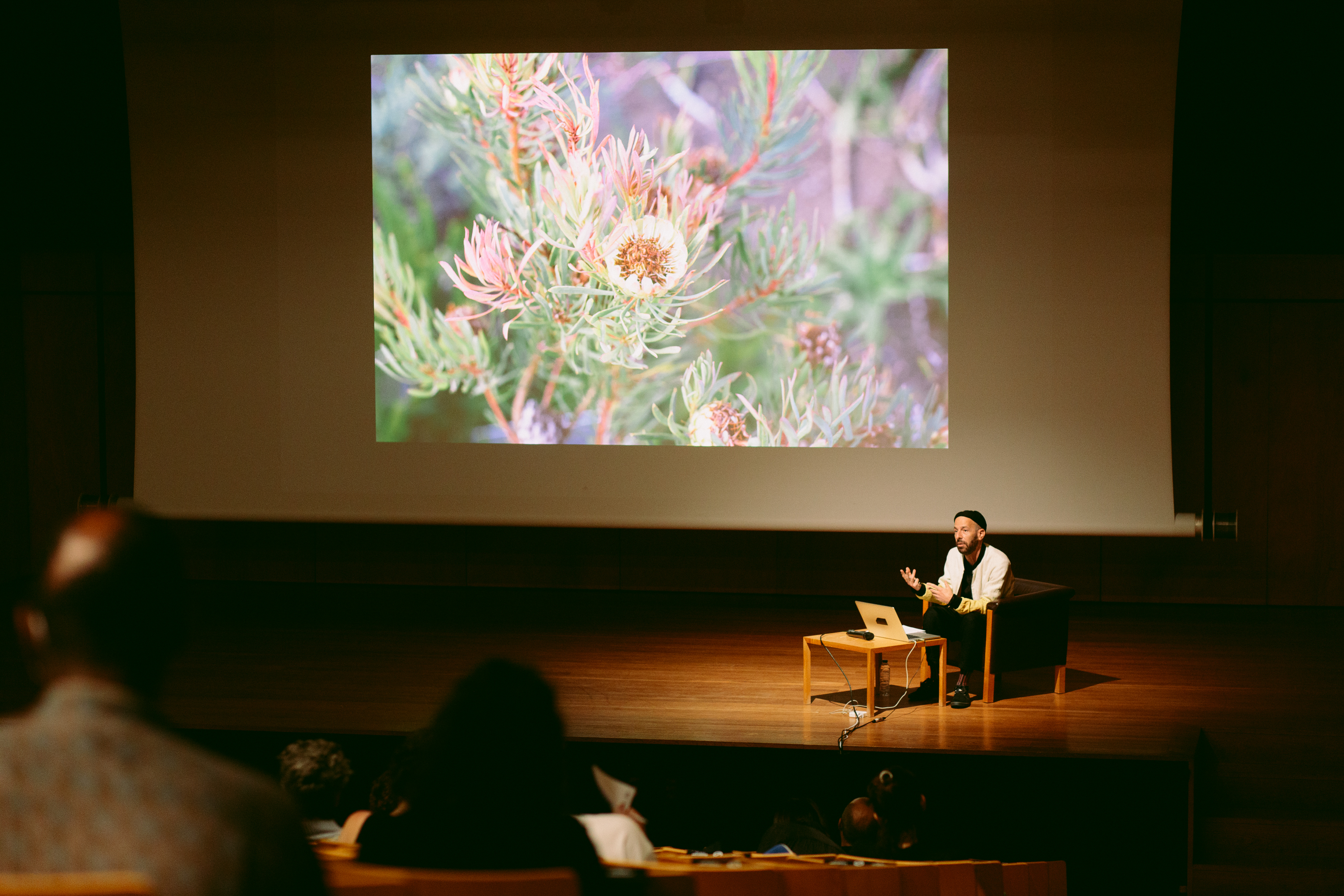 Friday, July 2, at 7 pm
Artist talk, with Uriel Orlow – Conversing with Leaves
ping! — Programa de Incursão à Galeria
Gineceu & Estigma / Especulações Botânicas
The artist Uriel Orlow will talk about some of his recent art projects which look to the botanical world as a stage for politics and history: trees as witnesses, the migration of flowers, botanical nationalism, gardens as tools of resistance, and medicinal plants testifying to neo-colonialism – these are some of the themes that Uriel Orlow has been engaging within his research-based art practice. The artist takes specific places and micro-histories as starting points for conversations about human plant entanglements and creates artworks in which plants are both narrators and protagonists.
Uriel Orlow's artistic practice is research-based, process-oriented and multi-disciplinary including film, photography, drawing and sound. Recent solo exhibitions include La Loge, Brussels; State of Concept, Athens; Kunsthalle Mainz, Tabakalera, San Sebastian; Kunsthalle St Gallen, Les Laboratoires d'Aubervilliers Paris, Market Photo Workshop and Pool, Johannesburg; The Showroom, London or Castello di Rivoli, Turin, among others.
Orlow's works are presented internationally in museums, film festivals and major biennials, including Manifesta 12, Palermo (2018), Sharjah Biennial (2017) and the Venice Biennial (2011). In 2020 Orlow received the CF Meyer Prize and in 2017 he received a Sharjah Biennial Prize. Orlow has also been awarded three Swiss Art Awards at Art Basel. Recent monographs include "Conversing with Leaves" (Archive Books, 2020), "Soil Affinities" (Shelter Press, 2019) and "Theatrum Botanicum" (Sternberg Press, 2018). Uriel Orlow is a Senior Researcher at University of Westminster London, Visiting Professor at Royal College of Art London and Docent at University of the Arts Zurich (ZHdK). www.urielorlow.net
Biblioteca Municipal Almeida Garrett auditorium.
The presentation will be held in English (simultaneous translation available in portuguese).
To participate in the presentation the free ticket must be collected (maximum 2 per person) up to 15 minutes before the event starts. Reservations can be made in advance by emailing galeriamunicipal@agoraporto.pt.
Photography: Renato Cruz Santos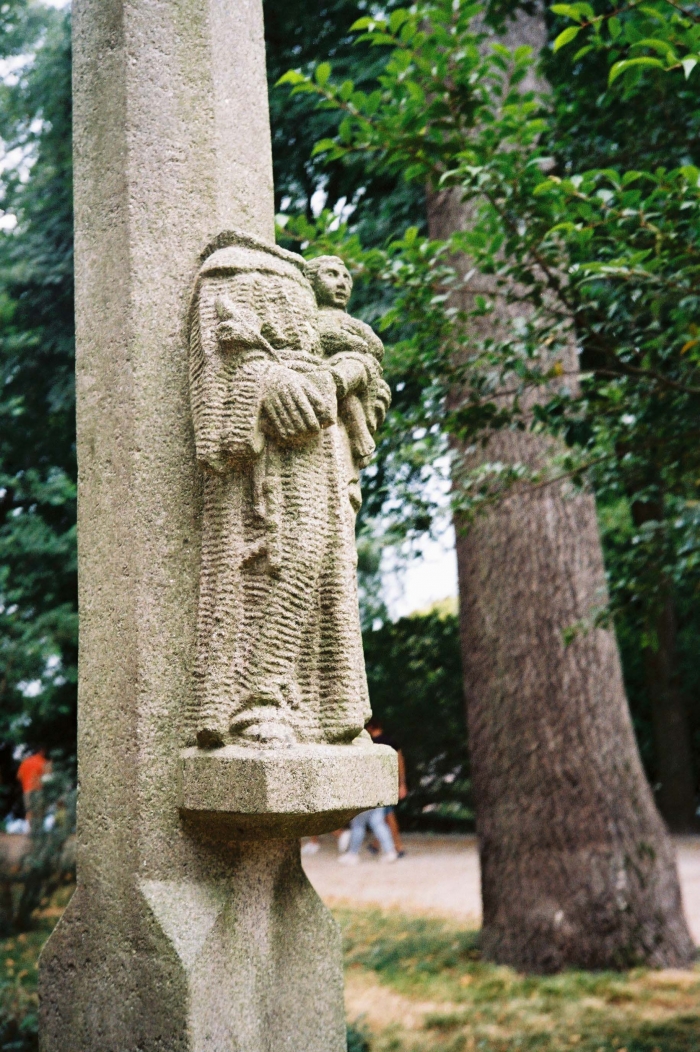 Sunday, October 3rd, from 4 to 6pm
A evolução da Representação da Natureza na cidade – Walk along the gardens with Carla Filipe
ping! — Programa de Incursão à Galeria
Gineceu & Estigma / Especulações Botânicas


Exoticism; Mini Zoo; Chico monkey; Sofala lion
old, always sleeping no longer delighted the children's fantasy with the grunting of the Jungle.
1910 opens the Monkey Cage. Sad with stench nearby
A vulture called Jorginho and other "monkeys" from the Palace
1993-08-28
Barons e Viscounts
The Agricultural Society of Porto
3º class restaurant
16 palmtrees
21 acacias
17 eucalyptus
18 Angola plants
64 conifers
134 various plants
116 petunias
it is a contextualized phenomenon incorporated in the construction of specific mentalities of Western culture
Agricultural Society
Liberal Revolt
Iron and cement
Dr. António Ferreira Braga, a great capitalist, would eventually die in the year 1870 in poverty for opening the coffers to make his dream come true – The Palácio de Cristal
Séc. XXI
Invasive plants: acacia
24-25 Peacocks
more males than females, contrary to the rooster
more roosters than chickens = 4 males + 2 females
sometimes disappear next to the nest, the food of a cat or seagulls
rats under control
Lakes without Natural life
___
With a degree in Fine Arts and a Master in Contemporary Artistic Practices from the Faculty of Fine Arts of the University of Porto,
Carla Filipe
started exhibiting in the early 2000s. She is a co-founder of the Salão Olímpico and Apêndice projects. In 2009, she received a grant from the Calouste Gulbenkian Foundation. Through an attentive look and a deep involvement with her surroundings, Carla Filipe seeks the basic elements that give meaning to the life of a specific community, building her work from the permeable relationship between art objects, popular culture and activism. Recently, she joined The 32nd Bienal – Live Uncertainty (São Paulo, Brazil, 2016), co-curated O ontem morreu hoje, o hoje morre amanhã (Galeria Municipal do Porto, Portugal, 2018) and held the solo exhibition Amanhã não há arte (MAAT, Portugal, 2019).
CIIMAR - Centro interdisciplinar de Investigação Marinha e Ambiental - is a scientific research and advanced training institution of the University of Porto. Its mission is to develop research of excellence, promote technological development and support public policies in the area of Marine and Environmental Sciences.
With a PhD in Biology and a postdoc in Science Communication, José Teixeira is the coordinator of the CIIMAR Communication Office since 2014. Among other tasks, he is responsible for the development and implementation of ocean literacy projects and coordinator of the Charcos com Vida Campaign .
Marisa Naia is a biologist and holds a master's degree in Biodiversity, Genetics and Evolution from the Universidade do Porto. She is currently a member of the Communication Office CIIMAR where she performs communication functions in the PONDERFUL and Charcos com Vida projects.
With the participation of José Teixeira and Marisa Naia
(CIIMAR - Centro interdisciplinar de Investigação Marinha e Ambiental)
Location
Gardens of Palácio
To participate in the walk, prior registration is required.
The selection of participants will be made in order of registration, by e-mailing galeriamunicipal@agoraporto.pt.

Crédito da imagem: Carla Filipe, July 10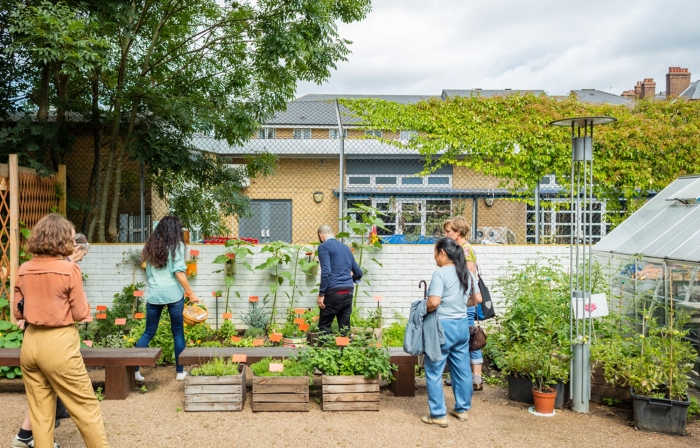 Friday (6pm-8pm) and Saturday (10am-4pm), October 15 and 16
Assembleia das Plantas - Workshop with Uriel Orlow
ping! — Programa de Incursão à Galeria
Gineceu & Estigma / Especulações Botânicas
This workshop is the result of a research residency that the artist carried out in the Gardens of Palácio de Cristal, to give rise to an interpretation of the political, healing and historical implications of the relationship between humans and plants. It will consist of two connected moments.
The session also counted with the participation of Fernanda Botelho and the Landra project, composed by Sara Rodrigues and Rodrigo B. Camacho.
The practice of the multidisciplinary researcher and artist
Uriel Orlow
integrates film, photography, drawing and sound and has focused especially on themes such as the residues of colonialism, the spatial manifestations of memory, and the botanical world as a political stage. His work has been exhibited in several internationally recognized institutions, such as Tate Modern (United Kingdom), Palais de Tokyo (France), Kunsthaus Zürich and Center d'Art Contemporain Genève (Switzerland). He has published three monographs — Conversing with Leaves (2020), Soil Affinities (2019) and Theatrum Botanicum (2018) — and currently teaches at the University of Westminster, the Royal College of Art (United Kingdom) and the Zurich University of the Arts (Switzerland).
Fernanda Botelho is a specialist in wild plants, namely in their medicinal and culinary uses. She lived for 17 years in England where she studied Botany, Phytotherapy and Pedagogy, having studied medicinal plants at the Scottish School of Herbal Medicine (1997). She is a collaborator of the Eco-Escolas programme and author of a collection of children's books, namely "Salada de Flores" (2011), "Sementes à Solta (2013)" and "Hortas Aromáticas" (2016). She also wrote "As plantas e a saúde" (2013), "Uma mão cheia de plantas que curam – 55 espécies espontâneas em Portugal" (2016) and the recently released "Ervas que se comem" (2021). She is co-author of "O meu primeiro Herbário de Plantas Medicinais" (2017) and "Cosmética Natural" (2020). Botelho publishes annually, since 2010, a programme of Medicinal Plants and organizes guided walks and plant recognition workshops at the invitation of various entities. She regularly contributes about medicinal plants to RTP's television programmes, as well as to several magazines and dedicated websites.
Sara Rodrigues and Rodrigo B. Camacho are interdisciplinary artists and creators of the Landra project, an oak grove and agro-forest under development in a valley at the foot of Serra da Cabreira. In addition to serving as a residence, it is also a center for research and education in regenerative cultures, sustainable energy and non-institutional art. Landra is the name given to the acorns from Minho to Galicia and refers to a culture of subsistence and autonomy, where once the fruits of the oaks offered food to the populations, in addition to improving the land and its ecosystems, year after year.
More information about the project at www.landra.pt.
Location
Gardens of Palácio and Biblioteca Municipal Almeida Garrett auditorium.
To participate in the workshop, prior registration is required.

The selection of participants will be made in order of registration, by e-mail galeriamunicipal@agoraporto.pt.

Image credit: Dan Weill. Uriel Orlow, "The Medicinal Garden Project", The Showroom, London, 2016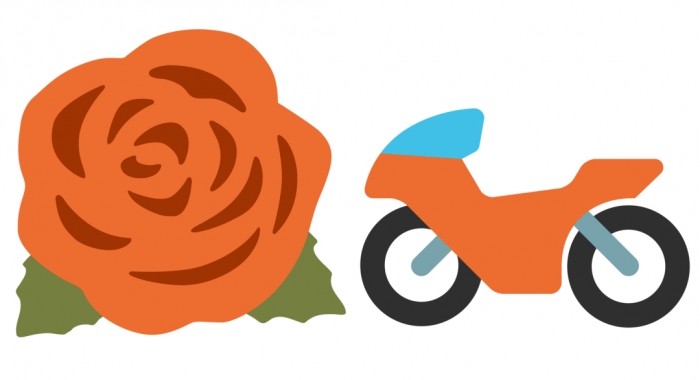 Ongoing
Walk along the gardens with Von Calhau!
ping! — Programa de Incursão à Galeria
Gineceu & Estigma / Especulações Botânicas

Due to a storm, scheduled for the night of October 30, 2021, it was not possible to fulfill the walk.
Therefore, remains the possibility of doing it in person or virtually.
Online guided version available
here
.
Printed version available on the balcony of GMP.
Von Calhau!
is the name that conceals all musical and visual projects of Portuguese duo Marta ngela and João Alves, worked out together since 2006. Their recent public presentations include performances, concerts, movie projections, exhibitions, radio programs and workshops at different venues such as Atelier MTK (France), ZDB Gallery and Museu de Serralves (Portugal) and more recently Residency Unlimited (USA).