Imaginaries
Understanding imaginaries as devices to conceive the present, desire change and create the future, I invite germinal contemporary thinkers to present a source of imaginary important for the present.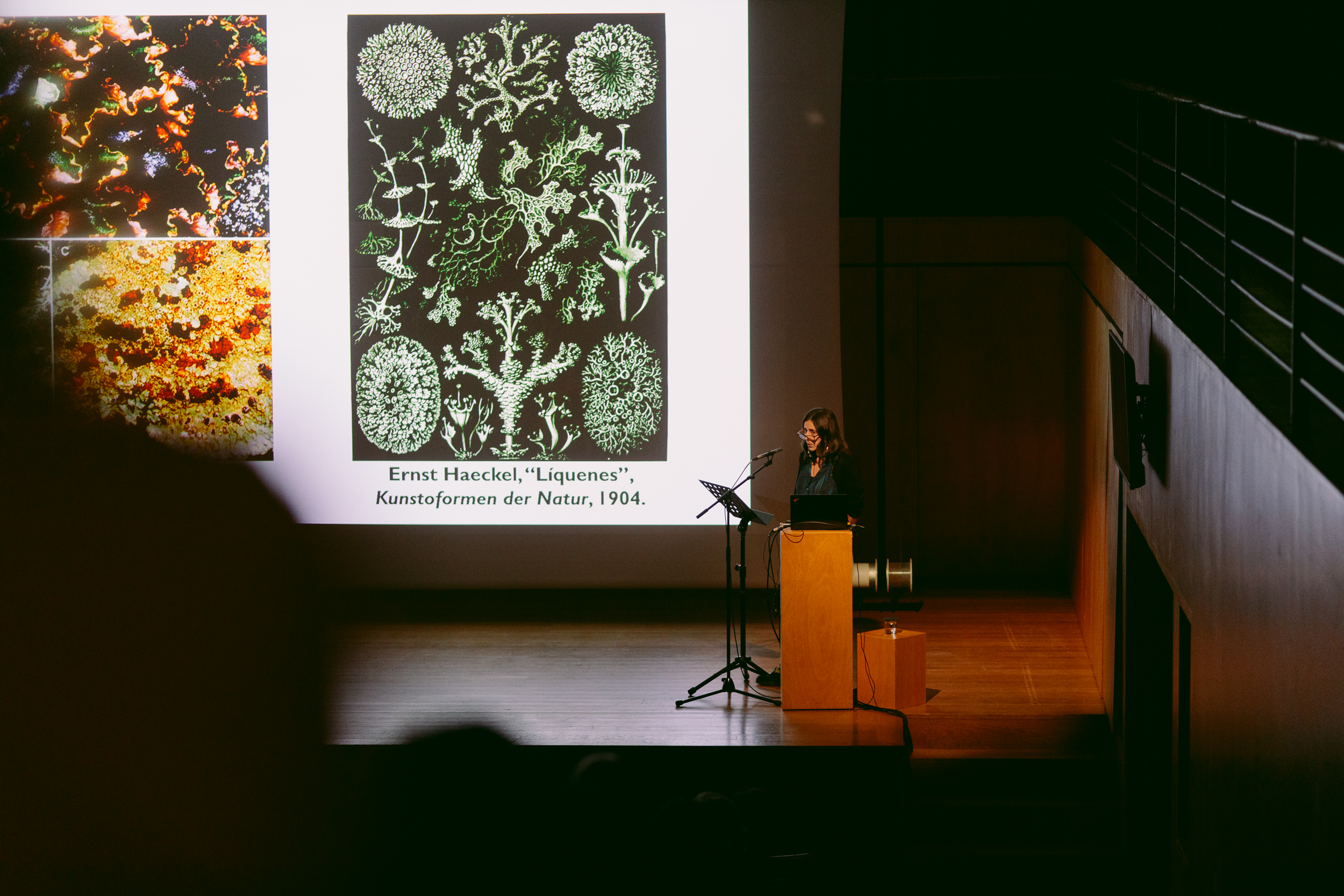 Imaginaries / Friday, April 29, 7pm
Thinking with Lichens and Weeds — Teresa Castro
Plants have a unique capacity to relate to other entities, collaborating with bacteria, fungi, insects and other human and more-than-human planters, showing us how life is a matter of alliances, relationships and mixtures.
During this event, thinker Teresa Castro analyses the affective ecologies suggested by lichens and weeds, investigating their implications and imaginaries. Her starting point is Silvia Maglioni and Graeme Thomson's installation Like Lichens Listen, exploring the potential of lichens, weeds and cinematic images to suggest other ways of seeing and relating to the world.
— On the day of the event, Maglioni and Thomson's installation
Like Lichens Listen
will be on display at the BMAG Auditorium.
Teresa Castro is Professor of Cinema Studies at Sorbonne Nouvelle – Paris 3. She investigates the relationship between cinema and animism, ecocriticism and vegetal life.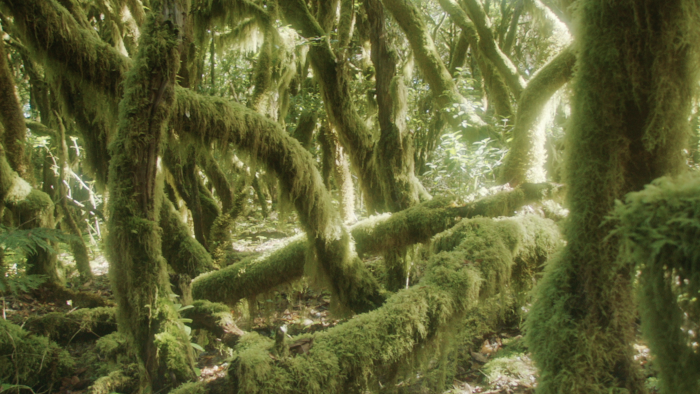 Imaginaries / Friday, April 29, 5-7pm
Like Lichens Listen, by Silvia Maglioni & Graeme Thomson
Inspired by the symbiotic interactions of lichens and the extraordinary solidarity of the vegetal world which fosters collaboration between organisms of completely different natures,
Like Lichens Listen
is a series of installations by filmmakers and artists Silvia Maglioni & Graeme Thomson drawing upon rushes and research materials from their 2019 feature film 
Common Birds
. Originally commissioned by Fondazione Merz, this modular installation is conceived as an immersive environment where we can dwell in an awareness of deep time. Images of the Garajonay Forest (La Gomera), an ancient living organism that hosts an enormous variety of endangered plants and species combine with a shifting electroacoustic soundscape in an invitation to re-enchant the world and listen to the play of inter-species alliances.
The projection of this piece is part of Teresa Castro's
conference
, which will take place starting at 7pm, at the same location.
LIKE LICHENS LISTEN (Variation IV)
Silvia Maglioni & Graeme Thomson
17'21'' HD Looped Video, Stereo
© Silvia Maglioni & Graeme Thomson 2022
For more information about the piece, click
here
.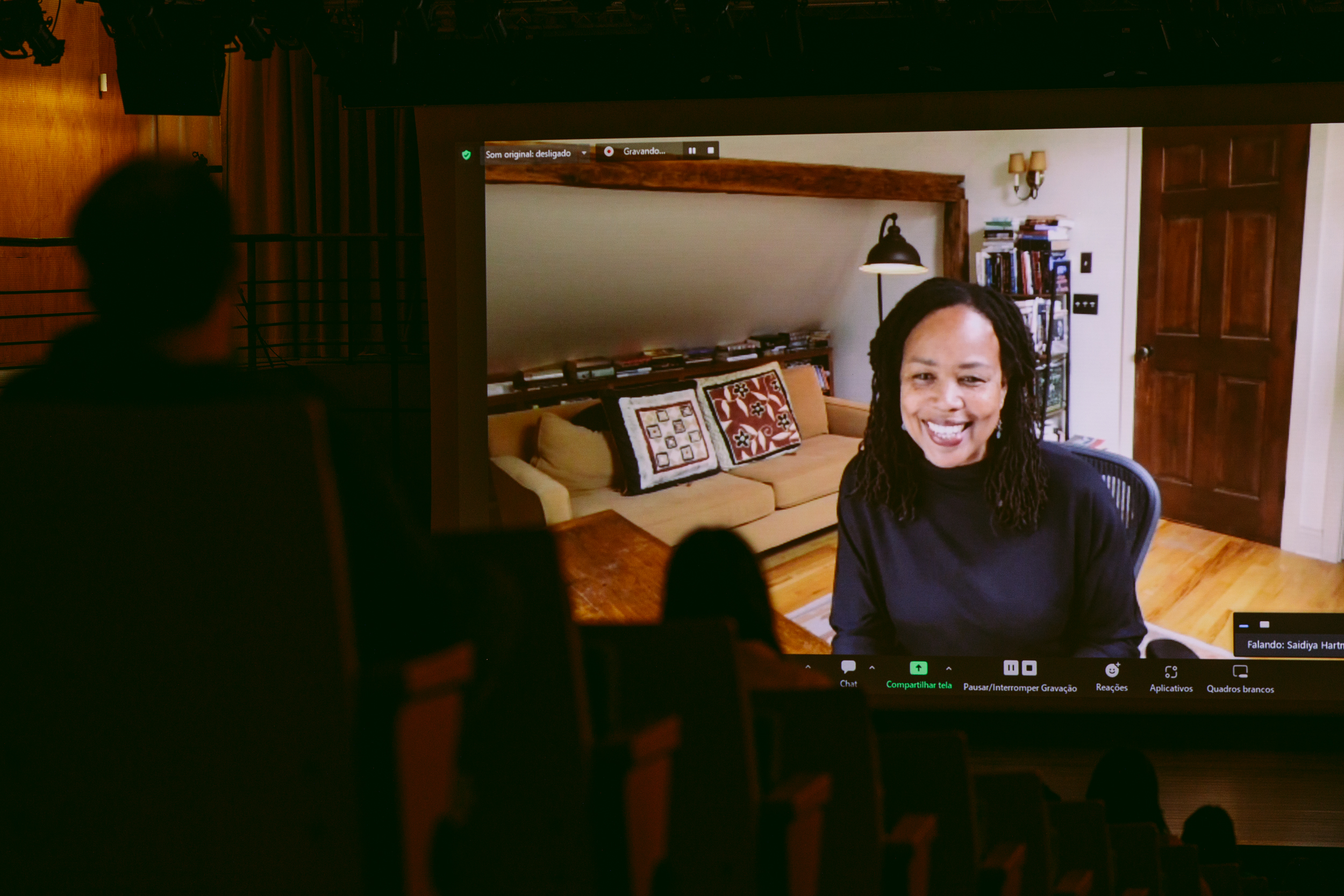 Imaginaries / Wednesday, June 22, 7pm
Saidiya Hartman — History Retold
Scholar Saidiya Hartman has been telling the untold stories of Black lives. Facing the void left by centuries of historiography that ignored and obliterated the voices, minds and bodies of Black people, Hartman developed a method of "critical fabulation", in which she combines historical and archival research with critical theory and fictional narrative. With her work, she has attested the strength of imagination to challenge and upturn the dominance of white academic voices and viewpoints. This will be a unique opportunity to hear her influential thoughts on our past-present.
Saidiya Hartman is a writer and academic focusing on African American studies. She is Professor of English and Comparative Literature at Columbia University, New York.
Location: BMAG Auditorium

Due to unexpected events, Saidiya Hartman will not be able to be present in Porto. Her presentation will take place by videoconference, in real time and exclusively in BMAG's auditorium space.
To participate the free ticket must be collected (maximum 2 per person) up to 15 minutes before the event starts.
Reservations can be made in advance by emailing galeriamunicipal@agoraporto.pt.

Image credits: MacArthur Foundation