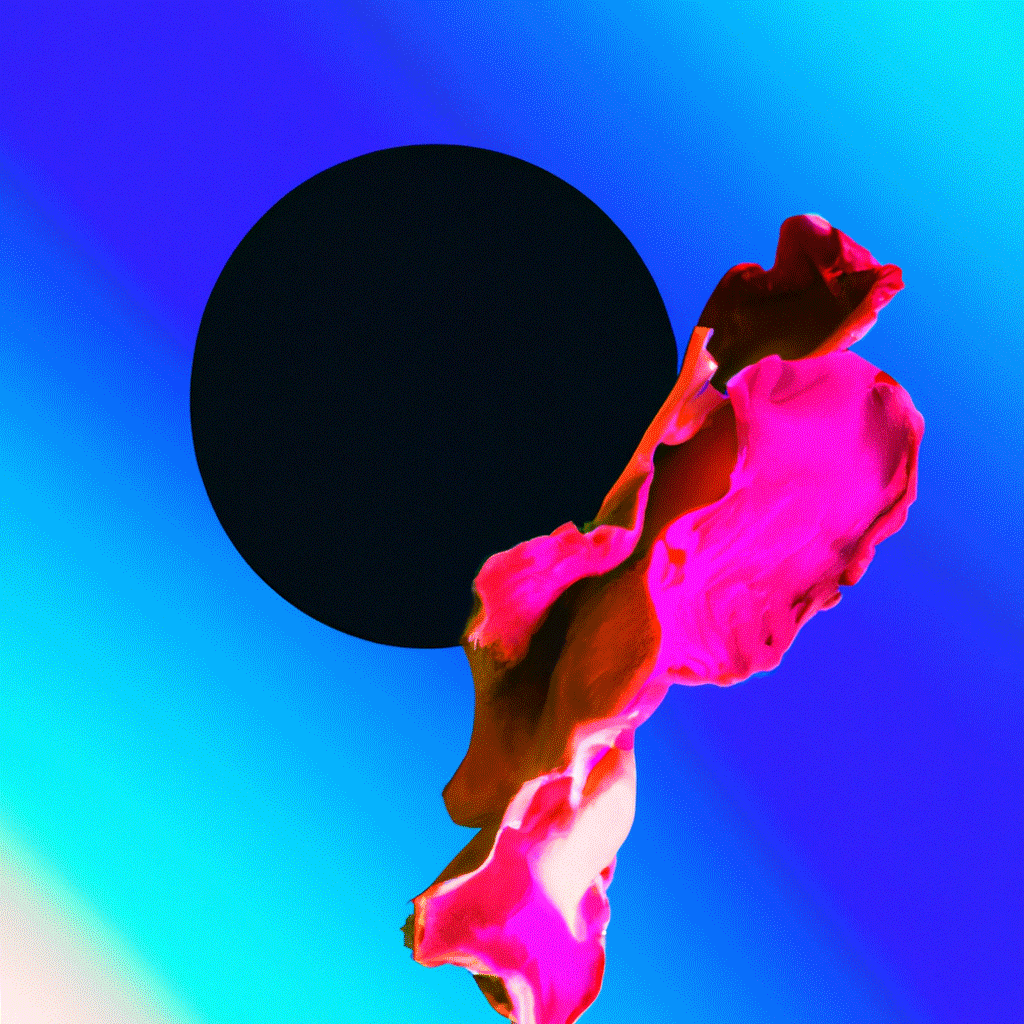 Compulsive Desires:
On Lithium Extractiuon and Rebellious Mountains
25.03 - 28.05.2023
Compulsive Desires — The Extraction of Lithium and Rebellious Mountains addresses the entanglement between extractivism and exhaustion, productivity and burn-out, across scales. Curated by Marina Otero Verzier, the exhibition takes as its starting point the ongoing lithium extraction plans in the North of Portugal and the struggles sustained by local communities for their lives and rights. Battles that emphasize how, in what has been described as "green colonialism", the development of the "renewable energy futures", too often involves the dispossession of communities and degradation of ecosystems.

Whereas the mining industry — and capitalism cravings — subjugates and exploits the mountain and its inhabitants treating them as resources to be extracted, the violence is turned into a force for survival for these communities through collective infrastructures and embodied rituals. If mining results in social, ecological, and mental breakdown, these practices, alongside artistic expressions, break social order to create counter worlds merging the individual and the collective, the ancestral realm and future generations, the human and more-than-human, and unleashing alternative understanding of energy.
Curated by Marina Otero Verzier

With
Amável Antão, Anastasia Kubrak, Carlos Irijalba, Giuliana Rosso, Grupo de Investigação Territorial (Antonio del Giudice, Godofredo Enes Pereira, Jacob Bolton, Mingxin Li, Tiago Patatas), Heitor Cramez, Isidro Rodrigues, Jonas Staal & Radha D'Souza, Jonathan Uliel Saldanha, Lara Almarcegui, Leanne Wijnsma, Lithium Triangle Research Studio + Nicolas Jaar, Maarten Vanden Eynde & Edmond Musasa, Medios Libres con la Gira Zapatista, Naomi Rincón Gallardo, Natalia de la Rubia Kozlowska, Orlando Vieira Francisco, Povo de Covas do Barroso & Paulo Carneiro, Susana Caló, Susana Soares Pinto, Tanguy Pitavy, Tomás Saraceno & Aerocene Foundation.
Music Between Companion Species
May - November 2023
Music between Companion Species is a series of concerts conceived and performed for and with dogs, their human companions and other more-than-human presences who may join these sessions. Inspired by Donna J. Haraway's Companion Species Manifesto and by cientific studies about dog's preferences for sound and music, the concerts will take into account these animals' unique sensibilities and hearing capabilities. Curated by Lovers & Lollypops.
Curated by Lovers & Lollypops
Paulo Cunha e Silva Art Prize
17.06-20.08.2023
Created by the City Council as a tribute to the late Councillor for Culture Paulo Cunha e Silva (1962 – 2015), a central figure for the city's artistic life, the award, held every two years in Porto, recognises the talent of new generations of national and international artists. This year's edition underlines the Prize's commitment to fostering creation and cultural exchange by establishing a partnership with three world-recognised residency programmes: Arquipélago Centro de Artes in S. Miguel, Azores, Cove Park, on Scotland's west coast, and Pivô, in São Paulo, will all host one of the nominated artists, appointed by a jury of three members.
The Nominators for the 2023 edition of the Art Prize are:
Artist Ângela Ferreira, Jan van Eyck Academie Director Hicham Khalidi, and cultural programmer Tabitha Thorlu-Bandura.

With
Euridice Kala, Márilu Namoda and Luis Santos (nominated by Ângela Ferreira); Rouzbeh Akhbari, Kent Chan and Hira Nabi (nominated by Hicham Khalidi) and Maren Karlson, Malik Nashad Sharpe aka Marikiscrycrycry, and Eve Stainton (nominated by Tabitha Thorlu-Bandura).
Duet
Maria Paz and Joan Jonas
16.09 – 19.11.2023


Duet is an invitation for two artists to share an exhibition space. It started as a proposal for a young artist from Porto to think of an artist they would like to share an exhibition with. Recalling the impact of her survey show at the Serralves Museum, Maria Paz invited Joan Jonas to share the exhibition space of the Galeria Municipal do Porto. In this transatlantic exchange of generations, the two artists will reveal their common investigations of forms, colours and materials.
Curadoria de Filipa Ramos
The Sylvan and Harsh North
09.12.2023 – 10.03.2024
What are the meteorological patterns, the myths and stories, the rhythms, colours and shapes, the human and nonhuman inhabitants that make up the Iberian Northwest, in its reality and fiction?
Wondering about the rituals and expressive modes of people, animals, plants, elements and minerals, we went looking for the roots, terminations and tentacles of the Iberian Northwest, trying to locate the places where they might reside. In doing so, we considered the past but above all faced the present-future of these concrete and imagined spaces between seas, woods and settlements. The Sylvan and Harsh North is an exhibition that follows roads and lines of intensity, centrifugal forces that take us beyond Porto, towards those supposed margins where permutations erupt, to discover and share the references, stories, words and connections to these places with a long past and an even longer future.
Curated by Filipa Ramos and Juan Luis Toboso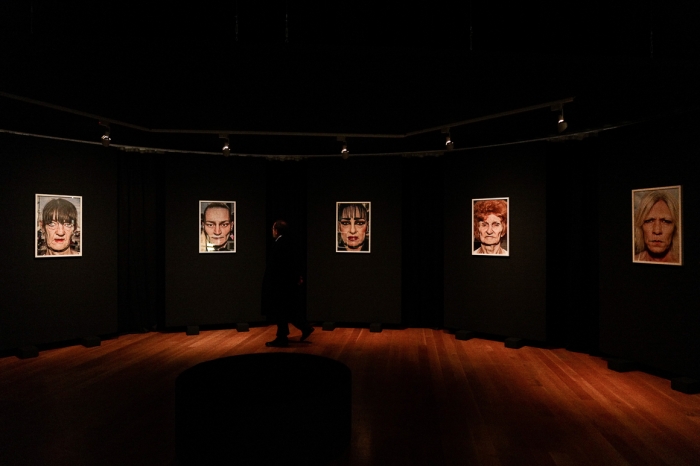 30.11 — 05.02.2017
EYES WIDE OPEN! 100 ANOS DE FOTOGRAFIA LEICA
Focusing on the Leica collection and the company's history (and its presence in Portugal), Eyes Wide Open, 100 years of Leica photography offers a significant range of images, from the early 20th century, to the present day. The Leica camera (the name derives from a contraction of the words "Leitz" and "Camera") is a canonical, fetishistic object embedded in our collective imagination. It has been the mainstay of many of the most significant careers in professional photography – including photojournalism and documentary photography – and the arts in general. This exhibition offers the opportunity to discover many iconic images that constitute a true historic profile of 100 years of western visual culture.
The exhibition, organized by Porto City Council and curated by Hans-Michael Koetzle, highlights key aspects of photographic theory and practice. The issues covered range from technological and aesthetic developments to ethical and deontological concerns, including new forms of creative expressions by artists.
Structured across thirteen sections, including one dedicated to Portugal, the exhibition explores how the 35mm film format has transformed the photographic gaze in the context of the history of art and culture, the impact of smaller-sized cameras on the creative work of amateurs, artists and photojournalists and, above all, how visual language has changed over recent decades and how this has modified our perception of the world.
Curated by:
Hans-Michael Koetzle

Curatorial consultant for the portuguese section:
Emília Tavares

Exhibition Design:
Tiago Casanova

Graphic Design:
Esad Idea – Investigação em Design e Arte

Support:
Centro Português de Fotografia e Museu Nacional de Arte Contemporânea – Museu do Chiado

Photographers:
Oskar Barnack, Mehemed Fehmy Agha, Arvid Gutschow, Elisabeth Hase, René-Jacques, Hans Saebens, Alexander Rodtschenko, Anton Stankowski, Paul Wolff, Ellen Auerbach, Ilse Bing, Robert Capa, Henri Cartier-Bresson, Alfred Eisenstaedt, Heinrich Heidersberger, Peter Humter-Salomon, Lothar Rübelt, Erich Salomon, Alfred Tritschler, Eva Kemlein, Ulrich Mack, Hans Saebens, Christer Strömholm, Walter Vogel, Édouart Boubat, Ara Güler, Franz Hubmann, Herbert List, Sabien Weiss, Ramón Masats, Leopoldo Pomés, Ricard Terré, Werner Bischof, Raymond Depardon, Elliot Erwitt, Thomas Hoepker, Alberto Korda, Robert Lebeck, Inge Morath, Marc Riboud, Sebastião Salgado, Nick Ut, Bruno Barbey, Gianni Berengo Gardin, René Burri, Bruce Davidson, Leonard Freed, Will McBride, Gabriele & Helmut Nothhelfer, Louis Stettner, John Bulmer, William Eggleston, Mitch Epstein, Fred Harzog, Wilmar Koenig, Saul Leiter, Joel Meyerowitz, F. C. Gundlach, Paolo Roversi, Jeanloup Sieff, Mark Coehen, Claude Dityvon, Barbara Klemm, Susan Meiselas, Christian Skrein, Christer Strömholm, Nobuyoshi Araki, Bernd Arnold, Julia Baier, Michel Vanden Eeckhoudt, François Fontaine, Bruce Gilden, Andrea Hoyer, Viktor Kolár, Rudi Meisel, Jeff Mermelstein, Bertrand Mennier, Paulo Nozolino, Kai Wiedenhöfer, Herbie Yamaguchi, Carlos Afonso Dias, Jorge Silva Araújo, Carlos Calvet, Gérard Castello-Lopes, Jorge Guerra, Victor Palla.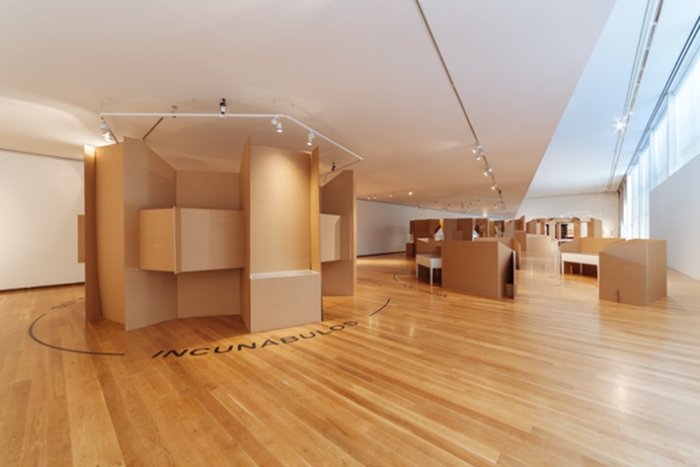 02.09 — 13.11.2016
100 TESOUROS DA BIBLIOTECA PÚBLICA MUNICIPAL DO PORTO
The third exhibition from 2016's season, which takes place simultaneously with Porto Books Fair, presents 100 Tesouros da Biblioteca Pública Municipal do Porto. This exhibition, the brainchild of Paulo Cunha e Silva and dedicated to his memory, showcases 100 Treasures from the Porto Municipal Public Library, a fascinating place emanating culture and liberty that has always influenced the character of Porto and of its inhabitants.
Curated by Fernando Pinto do Amaral and arranged into 12 thematic and chronological focal points, the exhibition features dozens of printed books to visitors, including some incunabula from the 15th century, beautiful medieval codices, numerous maps, lithographs and many other absolutely unforgettable works such as a Visigoth document dating back to the time before Portugal was founded and which is over one thousand years old, and also includes two magnificent editions of Os Lusíadas, the Foral da Cidade do Porto (Porto City Charter), the first treatise on Portuguese architecture, the Anatomia de Vesálio (Anatomy of Vesalius), the Roteiro da Primeira Viagem de Vasco da Gama à Índia (The Route of Vasco da Gama's First Voyage to India), various autograph manuscripts of Almeida Garrett, Alexandre Herculano, Camilo Castelo Branco, Maria Browne, Júlio Dinis, Antero, António Nobre, Pascoaes, Pessoa, Régio, Eugénio de Andrade, Agustina Bessa-Luís and many others.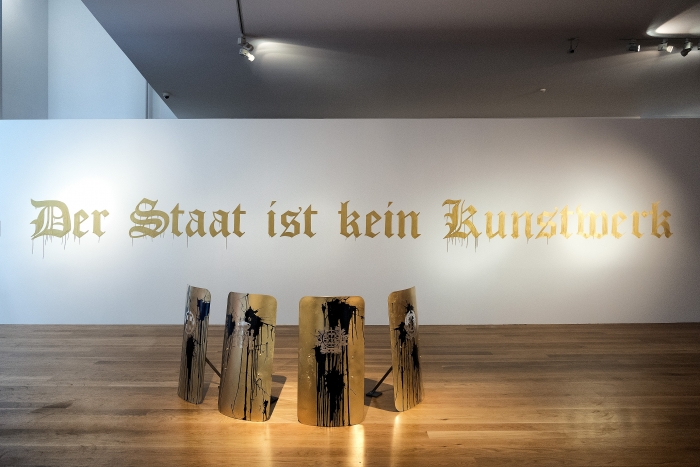 30.06 — 21.08.2016
PIGS
The PIGS project features work by artists from Portugal, Italy, Greece and Spain and aims to reflect a political landscape permeated by cynicism that stems from the paternalistic discourse – loaded with clichés and a sense os superiority – of northern European countries regarding the countries in the south. It presents interconnected narratives in which the selected artists take a critical look at notions such as democracy, institucional ethics, control strategies that dominate the collective subjectivity. Through these artists' works, it offers other possibilities, other visions, another viewpoint for overturning the established order.
The acronym used as the title provides a pretext for taking a snapshot of what is happening and for bringing to light some of the interrelated accounts that offer us the diversity of layers hidden behind the crisis and the current circumstances.
PIGS speaks ironically and subversively of the socio-political implications of the crisis and its cultural roots, of an accoubnt within Europe that is full of paradoxes, of a fractured pan-European idea, and what the false construction of this idea means for the four countries in question.

Co-Comissioned with:
Artium (Centro-Museo Vasco de Arte Contemporáneo)

Curated by:
Blanca de la Torre

Graphic Design:
Ió Lab – Ima Ferri / Jaume Marco

Graphic Adaptation:
João Drumond

Artists:
Artspirators, Avelino Sala, Bill Balaskas, Carla Filipe, Carlos Aires, Danilo Correale, Federico Solmi, Jenny Marketou & Zafos Xarogaris, Juan Carlos Meana, Karmelo Bermejo, Nuria Güell, Nuno Cera, Paolo Cirio, Priscila Fernandes, PSJM & José María Durán, Rossella Biscotti, Santiago Sierra, Stefano Cagol, Stefanos Tsivopoulos, Vasco Araújo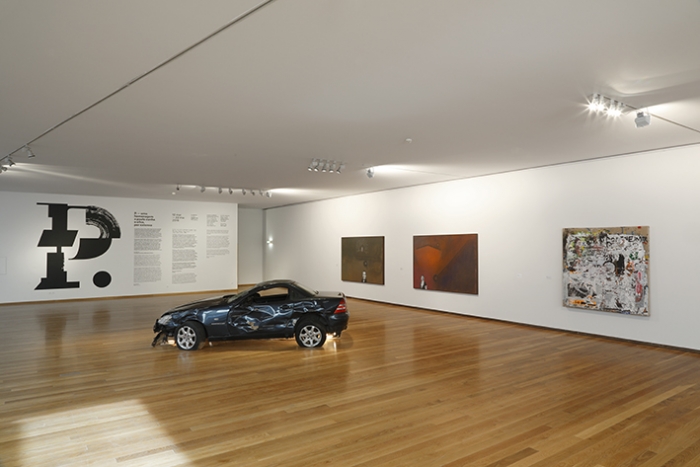 12.03 — 22.05.2016
P. - UMA HOMENAGEM A PAULO CUNHA E SILVA, POR EXTENSO
The exhibition dedicated to the Councilman of Culture at the Porto City Hall focuses on his visual discourse along two strands: the documental, in which homage is paid to the dazzling path carved out by this cultural agitator, and the complementary artistic propositions put forward by those who accompanied him in his interpellations to the aesthetic as an essential vehicle for an enlightened grasp of reality.
"(...) Paying homage to Paulo Cunha e Silva through an exhibition requires coherence and complexity. It stems from our sadness over his passing, our saudade (longing), but also the need to give him his due, and our pride at doing so. Although he is gone, we still cherish that smile, which never left him. What remains are his ideas, which still hover in the air. These ranged from the profound to the skin-deep, although the latter often proved to be the most important of all – as he used to say, skin is a vital and deepest of organs. So this occasion, for Paulo Cunha e Silva and for Porto itself, must not be seen as an end-point; rather, it is a point of departure for something that is greater and, by its very nature , defies description – the work of a figure who will never leave the city, as the city will never leave him. For this man, the horizon was merely the things that he had yet to do."

Rui Moreira
Mayor of Porto
Curated by:
Miguel Von Hafe Pérez

Graphic Design:
Esad Idea – Investigação em Design e Arte

Photography:
Filipe Braga

Artists:
Alberto Carneiro, Albuquerque Mendes, Cristina Mateus, Dalila Gonçalves, Gabriel Abrantes, Joana Vasconcelos, João Leonardo, João Louro, João Onofre, João Pedro Vale, Julião Sarmento, Miguel Palma, Pedro Tudela, Rodrigo Areias, Rui Chaves, Yonamine, Né Barros.