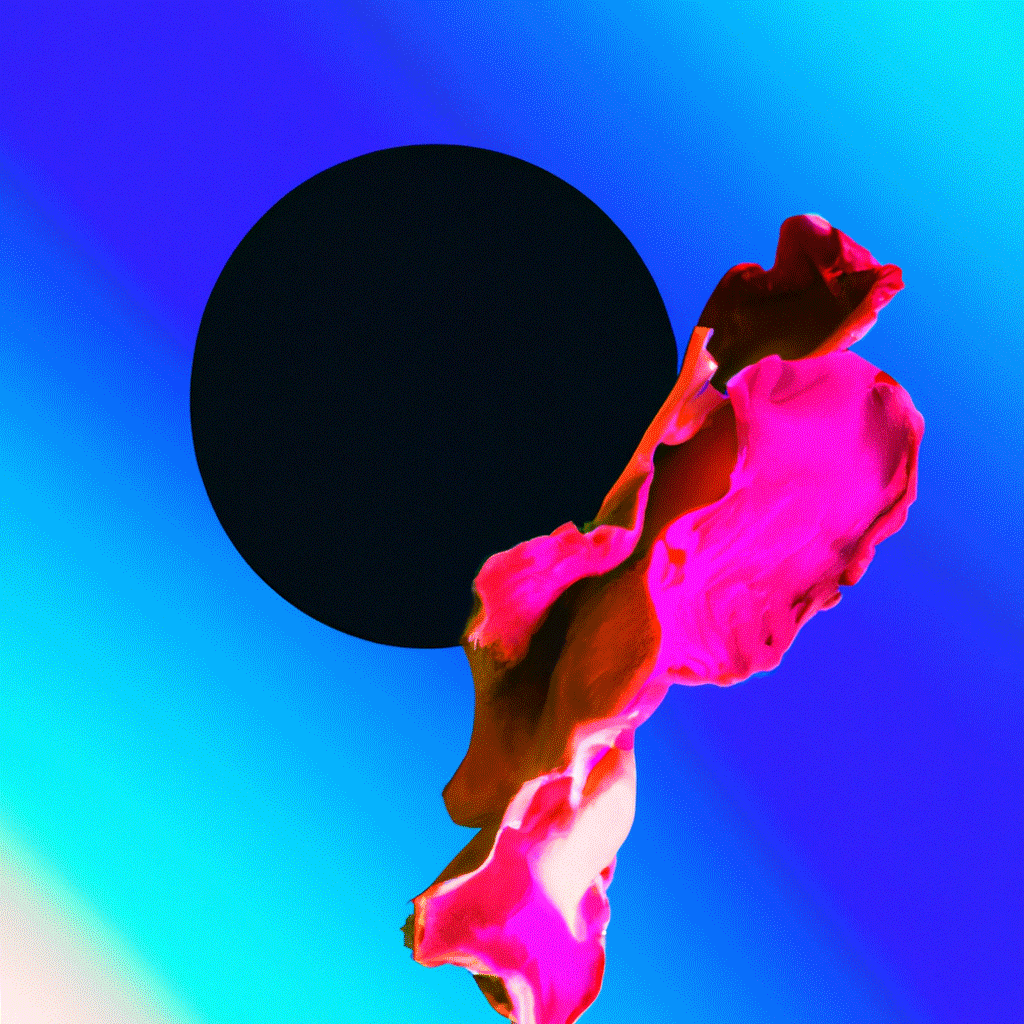 Compulsive Desires:
On Lithium Extractiuon and Rebellious Mountains
25.03 - 28.05.2023
Compulsive Desires — The Extraction of Lithium and Rebellious Mountains addresses the entanglement between extractivism and exhaustion, productivity and burn-out, across scales. Curated by Marina Otero Verzier, the exhibition takes as its starting point the ongoing lithium extraction plans in the North of Portugal and the struggles sustained by local communities for their lives and rights. Battles that emphasize how, in what has been described as "green colonialism", the development of the "renewable energy futures", too often involves the dispossession of communities and degradation of ecosystems.

Whereas the mining industry — and capitalism cravings — subjugates and exploits the mountain and its inhabitants treating them as resources to be extracted, the violence is turned into a force for survival for these communities through collective infrastructures and embodied rituals. If mining results in social, ecological, and mental breakdown, these practices, alongside artistic expressions, break social order to create counter worlds merging the individual and the collective, the ancestral realm and future generations, the human and more-than-human, and unleashing alternative understanding of energy.
Curated by Marina Otero Verzier

With
Amável Antão, Anastasia Kubrak, Carlos Irijalba, Giuliana Rosso, Grupo de Investigação Territorial (Antonio del Giudice, Godofredo Enes Pereira, Jacob Bolton, Mingxin Li, Tiago Patatas), Heitor Cramez, Isidro Rodrigues, Jonas Staal & Radha D'Souza, Jonathan Uliel Saldanha, Lara Almarcegui, Leanne Wijnsma, Lithium Triangle Research Studio + Nicolas Jaar, Maarten Vanden Eynde & Edmond Musasa, Medios Libres con la Gira Zapatista, Naomi Rincón Gallardo, Natalia de la Rubia Kozlowska, Orlando Vieira Francisco, Povo de Covas do Barroso & Paulo Carneiro, Susana Caló, Susana Soares Pinto, Tanguy Pitavy, Tomás Saraceno & Aerocene Foundation.
Music Between Companion Species
May - November 2023
Music between Companion Species is a series of concerts conceived and performed for and with dogs, their human companions and other more-than-human presences who may join these sessions. Inspired by Donna J. Haraway's Companion Species Manifesto and by cientific studies about dog's preferences for sound and music, the concerts will take into account these animals' unique sensibilities and hearing capabilities. Curated by Lovers & Lollypops.
Curated by Lovers & Lollypops
Paulo Cunha e Silva Art Prize
17.06-20.08.2023
Created by the City Council as a tribute to the late Councillor for Culture Paulo Cunha e Silva (1962 – 2015), a central figure for the city's artistic life, the award, held every two years in Porto, recognises the talent of new generations of national and international artists. This year's edition underlines the Prize's commitment to fostering creation and cultural exchange by establishing a partnership with three world-recognised residency programmes: Arquipélago Centro de Artes in S. Miguel, Azores, Cove Park, on Scotland's west coast, and Pivô, in São Paulo, will all host one of the nominated artists, appointed by a jury of three members.
The Nominators for the 2023 edition of the Art Prize are:
Artist Ângela Ferreira, Jan van Eyck Academie Director Hicham Khalidi, and cultural programmer Tabitha Thorlu-Bandura.

With
Euridice Kala, Márilu Namoda and Luis Santos (nominated by Ângela Ferreira); Rouzbeh Akhbari, Kent Chan and Hira Nabi (nominated by Hicham Khalidi) and Maren Karlson, Malik Nashad Sharpe aka Marikiscrycrycry, and Eve Stainton (nominated by Tabitha Thorlu-Bandura).
Duet
Maria Paz and Joan Jonas
16.09 – 19.11.2023


Duet is an invitation for two artists to share an exhibition space. It started as a proposal for a young artist from Porto to think of an artist they would like to share an exhibition with. Recalling the impact of her survey show at the Serralves Museum, Maria Paz invited Joan Jonas to share the exhibition space of the Galeria Municipal do Porto. In this transatlantic exchange of generations, the two artists will reveal their common investigations of forms, colours and materials.
Curadoria de Filipa Ramos
The Sylvan and Harsh North
09.12.2023 – 10.03.2024
What are the meteorological patterns, the myths and stories, the rhythms, colours and shapes, the human and nonhuman inhabitants that make up the Iberian Northwest, in its reality and fiction?
Wondering about the rituals and expressive modes of people, animals, plants, elements and minerals, we went looking for the roots, terminations and tentacles of the Iberian Northwest, trying to locate the places where they might reside. In doing so, we considered the past but above all faced the present-future of these concrete and imagined spaces between seas, woods and settlements. The Sylvan and Harsh North is an exhibition that follows roads and lines of intensity, centrifugal forces that take us beyond Porto, towards those supposed margins where permutations erupt, to discover and share the references, stories, words and connections to these places with a long past and an even longer future.
Curated by Filipa Ramos and Juan Luis Toboso
Programmes
Commented Concerts
Conceiving the concert as a conversation, I invite musicians to discuss their stylistic choices, aesthetic influences and references through performance and dialogue. Notes will range from gong resonances to cultural exchanges, and the exploration of cosmic ancestral forces.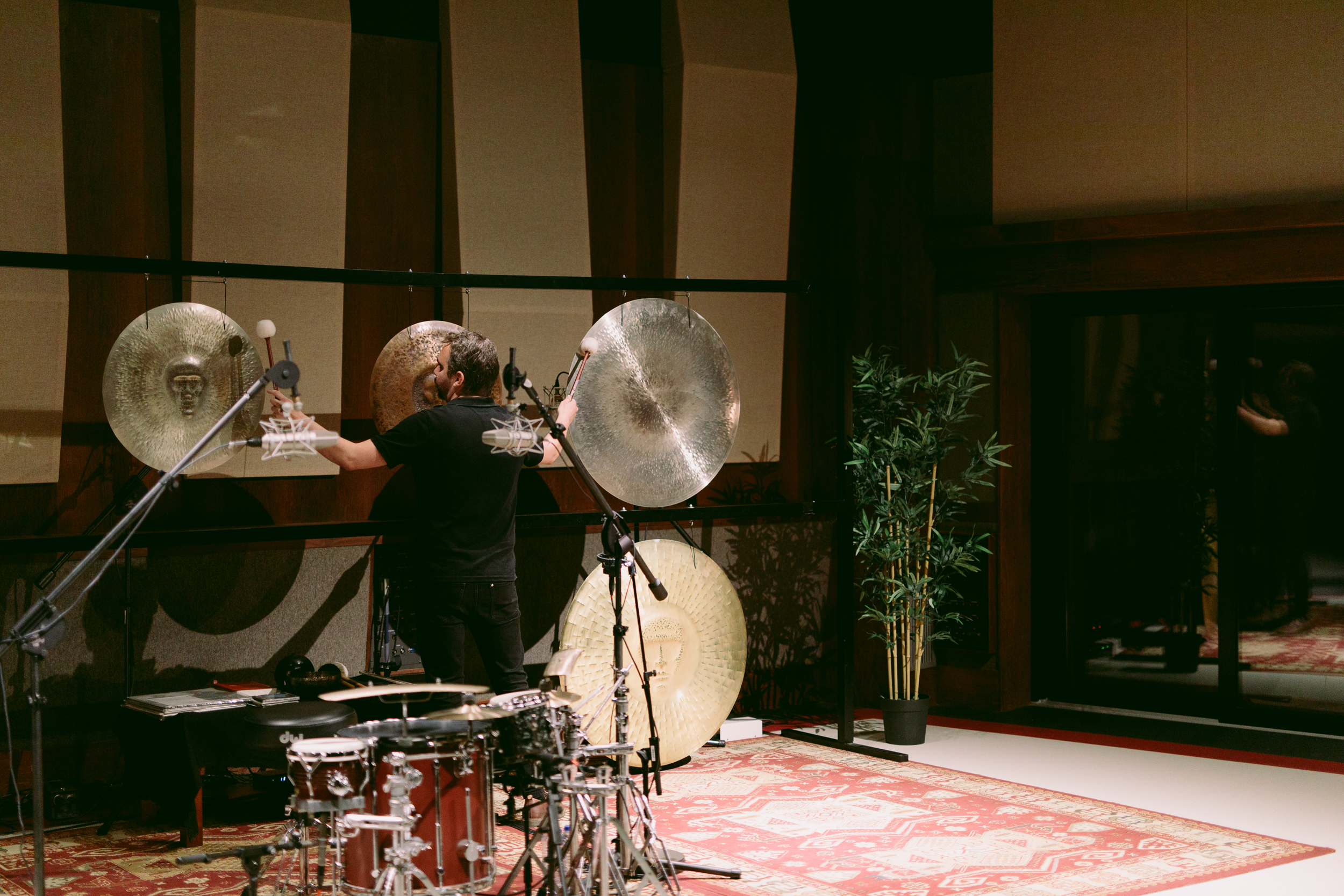 Commented Concerts / Saturday, May 28, 7pm
Sun Oddly Quiet — João Pais Filipe
Musician and sculptor João Pais Filipe introduces his process of creation and exploration of sound through a session with percussion instruments, many of them designed and built by himself. While exploring the relationship between materials, gestures and sounds, João Pais Filipe reveals how his travels across Africa, Asia and South America informed his heterogeneous, complementary cadences and sound mantras.
João Pais Filipe is a percussionist and sound sculptor from Porto. He develops his artistic activity in Porto, where he constructs percussive metal instruments, such as gongs or cymbals, exploring their sculptural and acoustic properties.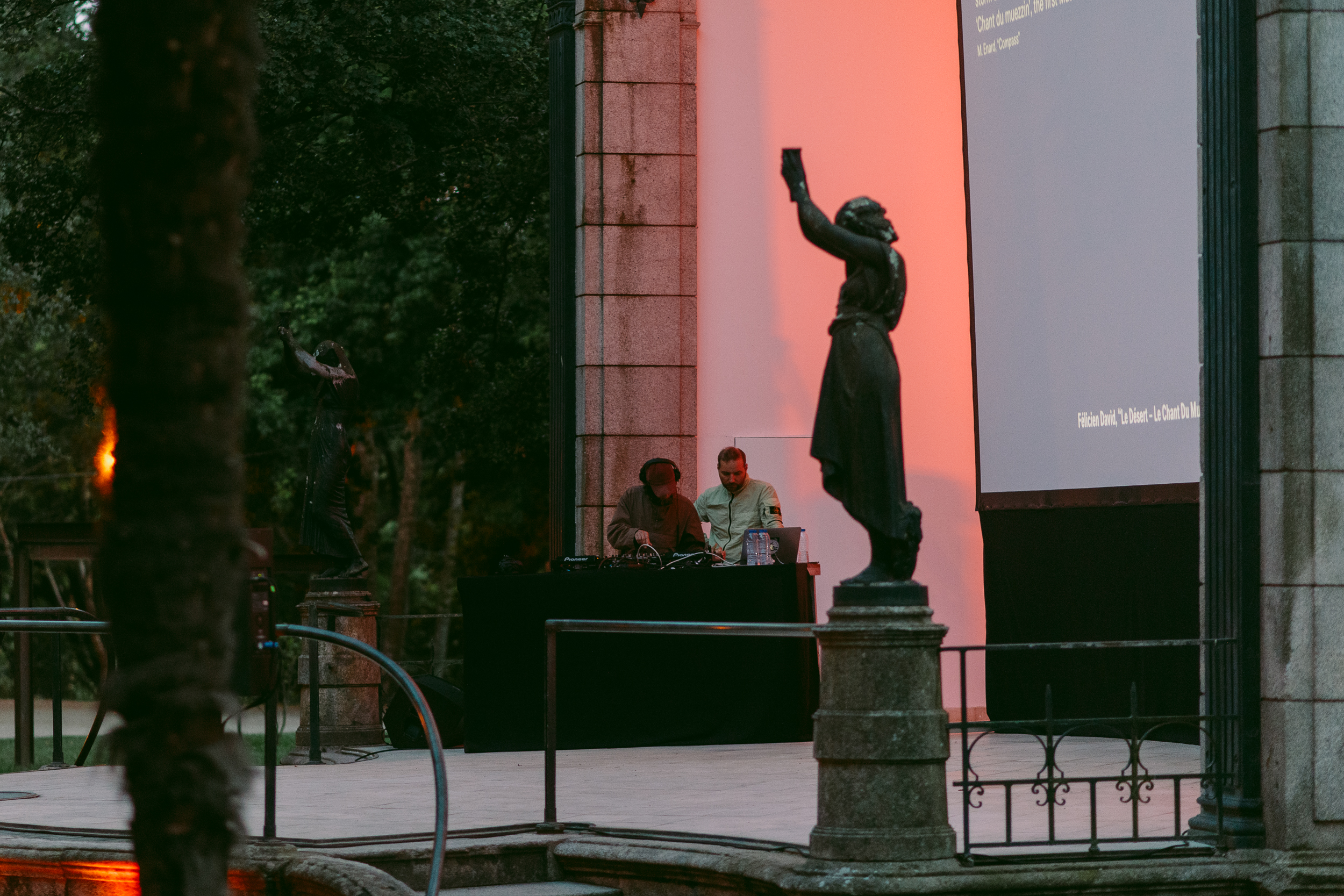 Commented Concerts / Sunday, 19 June, 9pm
Black Med, Chapter IV & VI — Invernomuto
Inspired by Paul Gilroy's "Black Atlantic" theory, which sees the Atlantic Ocean as the reflection of a political and cultural system based on the socioeconomics of slavery, historian Alessandra Di Maio defined the "Black Mediterranean" as a territory of subordination, racial oppression and geopolitical dispute. Based on these theories, Invernomuto created Black Med, a project of DJ set sessions in which texts and references dialogue with sound pieces, grouped into themes such as migration, periphery, interspecies or alternatives to technology. Black Med, Chapter IV features a diversion through the Persian Gulf and Black Med, Chapter VI is based on David Abulafia's essay "Mediterraneans".
The moment counts with the collaboration of
Sismógrafo
, which will present a solo exhibition of the artistic duo, on the previous day, and on Friday a screening of two documentaries at Passos Manuel Cinema.
The work of Invernomuto (Simone Bertuzzi and Simone Trabucchi) spans from moving images and sound to sculpture, performance and publishing. With Black Med, they intercept the sonic trajectories that cross the Mediterranean, tracing their movement and accommodating their narratives.
Location: Acoustic Shell, Gardens of Palácio de Cristal
Concert organised in collaboration with
Sismógrafo
.
-Film screening, by Invernomuto
Friday, June 17th, 10:00pm
Passos Manuel Cinema
-Exhibition opening "EMPIRE 2020", by Invernomuto
Saturday, June 18th, 17:00-20:00
Sismógrafo
-Commented concert "Black Med, Chapter IV & VI", by Invernomuto
Sunday 19th June, 21:00
Acoustic Shell, Gardens of Palácio de Cristal
Image credits: Renato Cruz Santos
Commented Concerts / Friday, 30 September, 7:30pm
Invisible Gestures — Nkisi
Nkisi explores gestuality as a form of spatial writing whose power expands into the dimension of the invisible through the dynamic and responsive properties of sound in the context of improvisation. From these speech-generating movements, Nkisi investigates the complex articulations between the nature of memory, abstract thought and the infinite reality of fractal worlds. Integrated within the scope of The Secret Institute project, the sound performance Invisible Gestures invokes the ancestral forces of nature and the cosmos, through the continuous study of hand movements, combined with improvisation in ritual performance, amplified by sounds, invocations and rhythms.
Nkisi (Melika Ngombe Kolongo) is an electronic musician, producer, and artist whose performances overlay African rhythms, hard European dance tropes, and synthesizer melodies to reorder the hierarchy of the senses and discover how body and memory are affected by sounds and rhythms.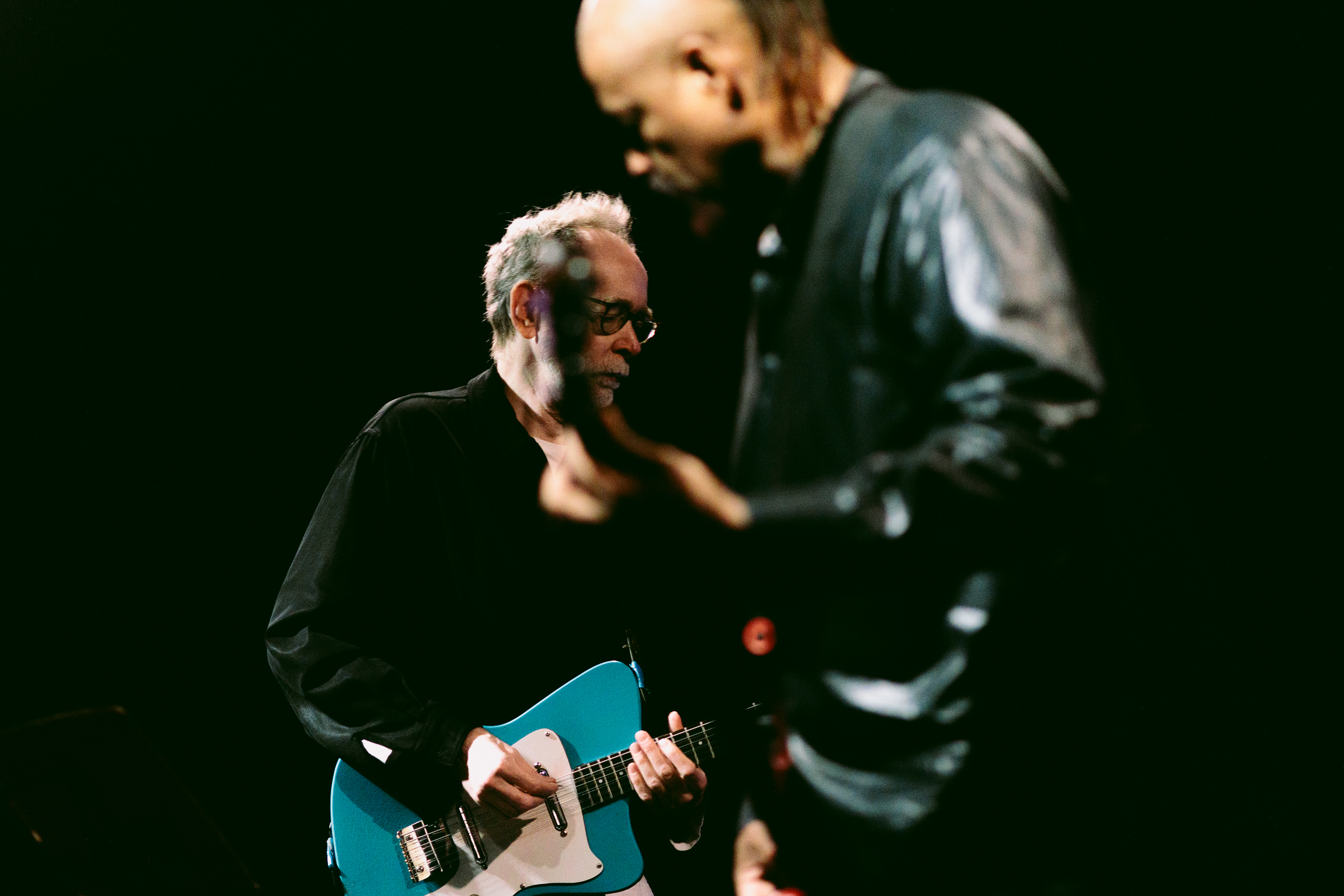 Commented Concerts / Tuesday, November 8, 9 pm
Arto Vs Arto — Arto Lindsay
Not even Arto Lindsay knows how an Arto Lindsay concert will unfold. The exact amounts of continuity and interruption, noise and harmony, frustration, humour and euphoria are dosed and distributed live and in unpredictable manners. Improvising, singing, attuning and disattuning himself to others shape Arto Lindsay's practice during the last four decades. The concert, in collaboration with bassist Melvin Gibbs, will be an unpredictable event.

Arto Lindsay bridges music and art with his work. As a member of DNA, he contributed to the foundation of No Wave while as bandleader of Ambitious Lovers, he subverted and radically changed Pop music. Through his collaborative practice, he has worked with artists such as Vito Acconci, Laurie Anderson, Animal Collective, Matthew Barney, Caetano Veloso and Rirkrit Tiravanija.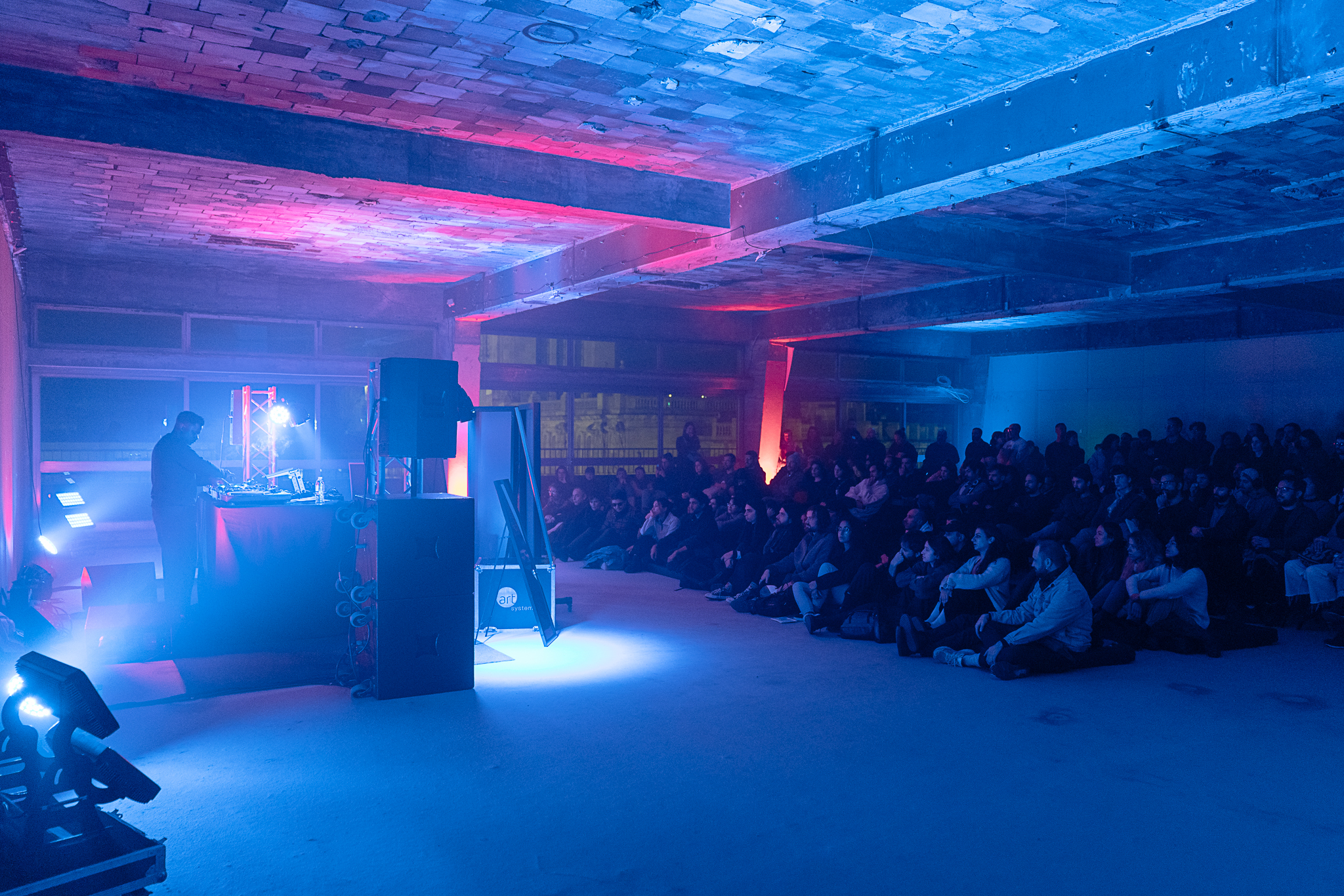 Commented Concerts / Friday, January 27, 7 pm
Shafts of Sunlight — Lamin Fofana
The future is uncertain. The road is constantly changing. Our encounters with the world compel us to experiment and create new concepts and things that will help us imagine a different existence, a way out of the turbulence and brutality. Shafts of Sunlight is an open-ended improvisatory performance-installation with fragments and debris from extended studio sessions. It is a disruption of the linearity of historical time, what historian Robin D. G. Kelley refers to as Blues Time; it is simultaneously the past, the future, and the timeless space of the imagination.

Lamin Fofana is an artist and musician currently based in New York and Berlin. His music explores issues of movement, migration, alienation, belonging and what lies beyond our reality. His interest in history and the present, and his practice of transmuting text into the affective medium of sound, manifest in live multi-sensory performances and installations with original musical compositions.