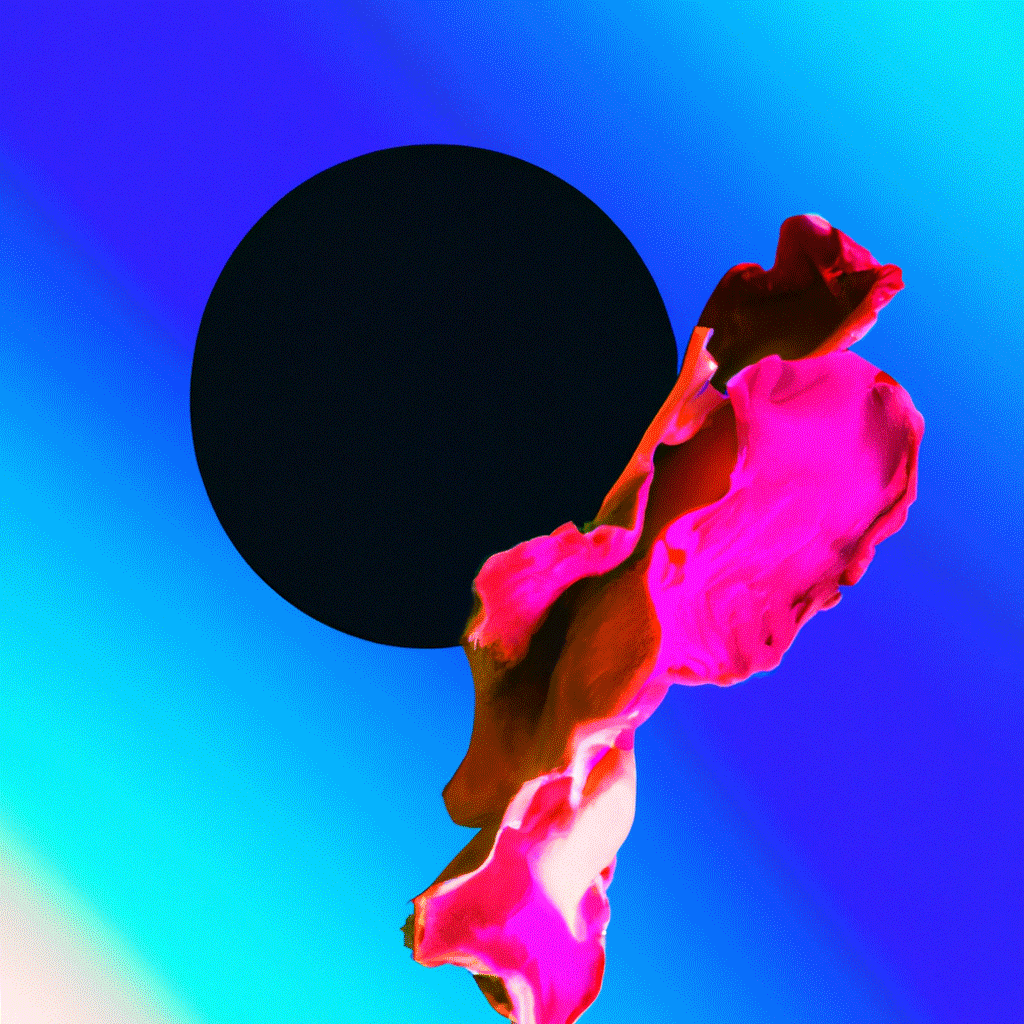 Compulsive Desires:
On Lithium Extractiuon and Rebellious Mountains
25.03 - 28.05.2023
Compulsive Desires — The Extraction of Lithium and Rebellious Mountains addresses the entanglement between extractivism and exhaustion, productivity and burn-out, across scales. Curated by Marina Otero Verzier, the exhibition takes as its starting point the ongoing lithium extraction plans in the North of Portugal and the struggles sustained by local communities for their lives and rights. Battles that emphasize how, in what has been described as "green colonialism", the development of the "renewable energy futures", too often involves the dispossession of communities and degradation of ecosystems.

Whereas the mining industry — and capitalism cravings — subjugates and exploits the mountain and its inhabitants treating them as resources to be extracted, the violence is turned into a force for survival for these communities through collective infrastructures and embodied rituals. If mining results in social, ecological, and mental breakdown, these practices, alongside artistic expressions, break social order to create counter worlds merging the individual and the collective, the ancestral realm and future generations, the human and more-than-human, and unleashing alternative understanding of energy.
Curated by Marina Otero Verzier

With
Amável Antão, Anastasia Kubrak, Carlos Irijalba, Giuliana Rosso, Grupo de Investigação Territorial (Antonio del Giudice, Godofredo Enes Pereira, Jacob Bolton, Mingxin Li, Tiago Patatas), Heitor Cramez, Isidro Rodrigues, Jonas Staal & Radha D'Souza, Jonathan Uliel Saldanha, Lara Almarcegui, Leanne Wijnsma, Lithium Triangle Research Studio + Nicolas Jaar, Maarten Vanden Eynde & Edmond Musasa, Medios Libres con la Gira Zapatista, Naomi Rincón Gallardo, Natalia de la Rubia Kozlowska, Orlando Vieira Francisco, Povo de Covas do Barroso & Paulo Carneiro, Susana Caló, Susana Soares Pinto, Tanguy Pitavy, Tomás Saraceno & Aerocene Foundation.
Music Between Companion Species
May - November 2023
Music between Companion Species is a series of concerts conceived and performed for and with dogs, their human companions and other more-than-human presences who may join these sessions. Inspired by Donna J. Haraway's Companion Species Manifesto and by cientific studies about dog's preferences for sound and music, the concerts will take into account these animals' unique sensibilities and hearing capabilities. Curated by Lovers & Lollypops.
Curated by Lovers & Lollypops
Paulo Cunha e Silva Art Prize
17.06-20.08.2023
Created by the City Council as a tribute to the late Councillor for Culture Paulo Cunha e Silva (1962 – 2015), a central figure for the city's artistic life, the award, held every two years in Porto, recognises the talent of new generations of national and international artists. This year's edition underlines the Prize's commitment to fostering creation and cultural exchange by establishing a partnership with three world-recognised residency programmes: Arquipélago Centro de Artes in S. Miguel, Azores, Cove Park, on Scotland's west coast, and Pivô, in São Paulo, will all host one of the nominated artists, appointed by a jury of three members.
The Nominators for the 2023 edition of the Art Prize are:
Artist Ângela Ferreira, Jan van Eyck Academie Director Hicham Khalidi, and cultural programmer Tabitha Thorlu-Bandura.

With
Euridice Kala, Márilu Namoda and Luis Santos (nominated by Ângela Ferreira); Rouzbeh Akhbari, Kent Chan and Hira Nabi (nominated by Hicham Khalidi) and Maren Karlson, Malik Nashad Sharpe aka Marikiscrycrycry, and Eve Stainton (nominated by Tabitha Thorlu-Bandura).
Duet
Maria Paz and Joan Jonas
16.09 – 19.11.2023


Duet is an invitation for two artists to share an exhibition space. It started as a proposal for a young artist from Porto to think of an artist they would like to share an exhibition with. Recalling the impact of her survey show at the Serralves Museum, Maria Paz invited Joan Jonas to share the exhibition space of the Galeria Municipal do Porto. In this transatlantic exchange of generations, the two artists will reveal their common investigations of forms, colours and materials.
Curadoria de Filipa Ramos
The Sylvan and Harsh North
09.12.2023 – 10.03.2024
What are the meteorological patterns, the myths and stories, the rhythms, colours and shapes, the human and nonhuman inhabitants that make up the Iberian Northwest, in its reality and fiction?
Wondering about the rituals and expressive modes of people, animals, plants, elements and minerals, we went looking for the roots, terminations and tentacles of the Iberian Northwest, trying to locate the places where they might reside. In doing so, we considered the past but above all faced the present-future of these concrete and imagined spaces between seas, woods and settlements. The Sylvan and Harsh North is an exhibition that follows roads and lines of intensity, centrifugal forces that take us beyond Porto, towards those supposed margins where permutations erupt, to discover and share the references, stories, words and connections to these places with a long past and an even longer future.
Curated by Filipa Ramos and Juan Luis Toboso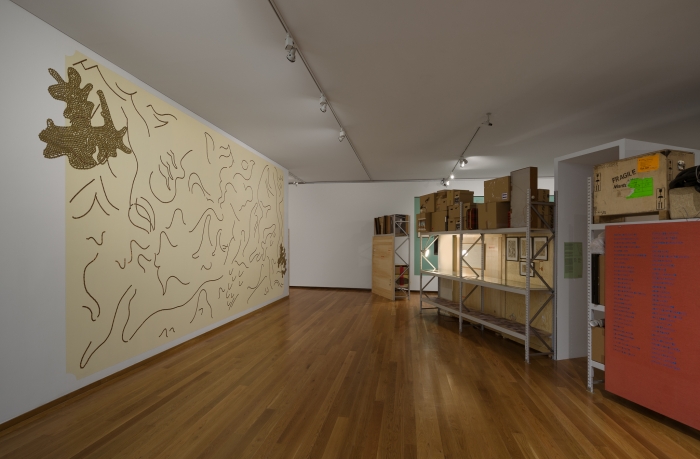 17.12.2020 - 25.04.2021
QUE HORAS SÃO QUE HORAS
Uma galeria de histórias
The exhibition Que horas são que horas: uma galeria de histórias is the result of an invitation made by the Galeria Municipal do Porto to three curators to reflect upon the historical landscape of Porto's art galleries – inscribed between the apparent post-WWII cultural opening and the retraction of the cultural sector after the recent economic crisis. Looking at this time period enables us to understand the many different sides of the civitas, and the transformative complicities that exist between the city's artists, cultural agents and audiences that shape it.

This retrospective portrait comprises independent exhibitions in bookshops, which explored an alternative professional approach to the art world; it recalls the confrontation with new audiences and civic spaces that only became possible after the 1974 revolution and the celebration of simultaneous inaugurations in galleries in the Rua Miguel Bombarda that followed; finally culminating with the network of alternative venues created to resist the Troika.

Either against the regime or supported by it, in an institutional vacuum or filling up museums, and heir of a conservative social context which had no critical discourse and resisted the inscription of new generations of artists, the historical landscape of Porto's art galleries is composed by citizenship and commerce, and by art that has both cult value and exchange value: a gallery of stories.

04.12.2020 - 25.04.2021
NETS OF HYPHAE
DIANA POLICARPO
Convulsions, hallucinations, burning sensations. The ergot parasite infecting rye plants is known to be the cause of the St. Anthony's fire disease. In small doses, ergot has traditionally been used by women healers for abortions. However, their knowledge rooted in experience of the land and plants has been eradicated by the progress of patriarchal capitalism, replacing it with obstetrics. Historians today still speculate whether ergotism may have played a role in accusations of witchcraft against women in the Salem crisis in 1692, as well as against Sámi shamans in the Finnmark trials in 1621, and other instances.

Diana Policarpo's exhibition Nets of Hyphae, curated by Stefanie Hessler (Director of Kunsthall Trondheim), draws speculative connections between ergot fungi networks and women's health. Her newly commissioned video works, animation, textiles and soundscape create parallels between the fungus cycle, reproductive justice and the expertise of midwives, healers and peasants in precarity and resistance. Homing in on feminist perspectives on psychedelics and working with the transfeminist biohacker Paula Pin, Policarpo draws speculative parallels between ergotism, the suppression of ancestral knowledge and health justice.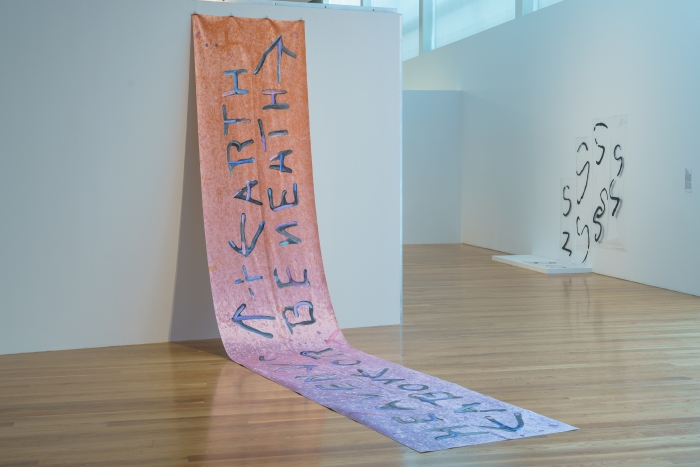 12.09 – 15.11.2020
PRÉMIO PAULO CUNHA E SILVA
2nd EDITION
The
Paulo Cunha e Silva Art Prize
was created by Porto City Council as a tribute to the former Councillor for Culture, Paulo Cunha e Silva, and is aimed at artists under 40 years of age. The jury of the second edition of the award – Isabel Lewis, John Akomfrah, Margarida Mendes and Shumon Basar – analysed the portfolios of 48 artists selected by a group of 16 curators appointed by the jury members. Lastly, the four jury members chose six finalists, from different cultural geographies and with very different artistic practices. The jury explained that the artists' voices articulate the current situation and things to come, and moved them through their beauty, tenderness, political speculation or simply their magic. The winner will be announced during the exhibition.
12.09 – 15.11.2020
WAVES AND WHIRLPOOLS
LUÍS LÁZARO MATOS
Inspired by the triangular shape of the mezzanine of the Galeria Municipal do Porto as a potential metaphor for the Bermuda Triangle, Luís Lázaro Matos' new series of works takes us to a whirlwind of suspended images in space.
Curated by Martha Kirszenbaum (curator of the French Pavilion at the 58th Venice Biennale, 2019), the starting point of the exhibition project is the artist's fascination with the mythology of the sea. Music appears at the core of his practice, and the seven diptych paintings in the exhibition are inspired by the seven songs of his recently released album, also named
Waves and Whirlpools
.
The pictorial and musical compositions consist in a superimposition of layers of paint and sounds, and invite the viewers to immerse themselves in a mystical, romantic and troubling universe, underpinned by an ultimate fantasy of dominating the ocean and its uncontrollable waves.
__
Curator's Statement


For his solo presentation at the Galeria Municipal of Porto, Lisbon-based artist Luís Lázaro Matos (b. 1987) – whose practice spans painting, drawing, music, and performance – has created a new ensemble of seven diptych paintings, inspired by seven recently released songs, and conveying references to the mythology of the sea.
Matos depicts intriguing surroundings of dark blue waves and smiling cartoonish palm trees, haunted by fantastic marine creatures, such as sea turtles, manta rays, octopuses, whales, but also birds and an Astronaut dog named Laika. The iconography he displays might recall the imaginary realism of Portuguese artist, Paula Rego, whose interpretation of fairytales grew into an important source of inspiration for his approach. A recurrent persona portrayed throughout the exhibition is an allegorical self-portrait of a musician transformed into a sea turtle, who serenades an Egyptian character, in a scene that echoes the Exodus and the parting of the Red Sea, thus expressing the ultimate fantasy to have power over the ocean and its incontrollable waves and currents. Finally, Matos has outlined mysterious aliens, reflecting his fascination for conspiracy theories and the Bermuda Triangle, a source of inspiration for this project that is also expressed in the architectural shape of the exhibition space.
Each painting comprises a long black rope that seems to interlace and connect all the works, as it figures an Ariadne's thread, in the shape of an audio jack, reminding us that music appears at the deep core of Luís Lázaro Matos' work. For this particular series, he has composed seven tracks of lively noise-punk, stylistically inspired by the compositions of the American band, Sonic Youth. The lyrics and titles of each song address and elucidate the themes developed in his painting series:
Red Sea
,
Whirlpools
,
Laika Surfing Cosmic Waves
and
Tsunami
, among others. In his musical compositions, the arrangement technique consists of layering different instruments, a method also used in his paintings, by applying numerous layers and undercoats of paint. The storytelling behind his canvases is punctuated by the occurrence of several musical instruments (guitars, keyboards or microphones) and their presence resonates with a visual realm that is profoundly mystical, romantic and troubling.
02.06 – 19.07.2020 / PALÁCIO DAS ARTES
ANUÁRIO 19
Anuário is an exhibition and, simultaneously, a project of reflective analysis of curatorial and artistic practices in Porto during a one year period. This project – included in the platform Pláka, which encompasses the city council's policies in support of contemporary art – was created by João Ribas and Guilherme Blanc and is annually developed by a group of five curators who they invite to monitor, document and analyse artistic projects presented in public spaces in the city. This is an exhibition that results from a continuous reflection on artistic production and a shared curatorial process, in which the five curators' perspectives converge into a common understanding of the art practice in Porto over the last year.
ANUÁRIO 19
Palácio das Artes / Fundação da Juventude

Curated by:
Catarina Miranda
Eduarda Neves
Filipe Marques
Samuel Silva
Simão Bolívar

Commissioned by:
Guilherme Blanc
João Ribas

Artists:
ACCA (André Covas + Carmo Azeredo)
Ângelo Ferreira de Sousa

António Poppe
Bergado & Terebentina
Carla Castiajo
Carlos Arteiro
Carlos Mensil
Celeste Cerqueira
Dan Halter
Daniel Moreira & Rita Castro Neves
Ece Canli
Emídio Agra
Fabrizio Matos
Flávio Rodrigues
Francisco Tropa
Guilherme de Sousa & Pedro Azevedo
João Baeta
João Gabriel
João Pedro Trindade
Jonathan Uliel Saldanha
Marco Pires
Mariana Barrote
Mauro Cerqueira
Mauro Ventura
Nuno Ramalho
Patrícia Geraldes
Paulo Ansiães Monteiro (PAM)
Pedro Tudela
Ruca Bourbon
Susana Chiocca
Tiago Afonso
Tomás Abreu
Vera Mota

Photo:
Dinis Santos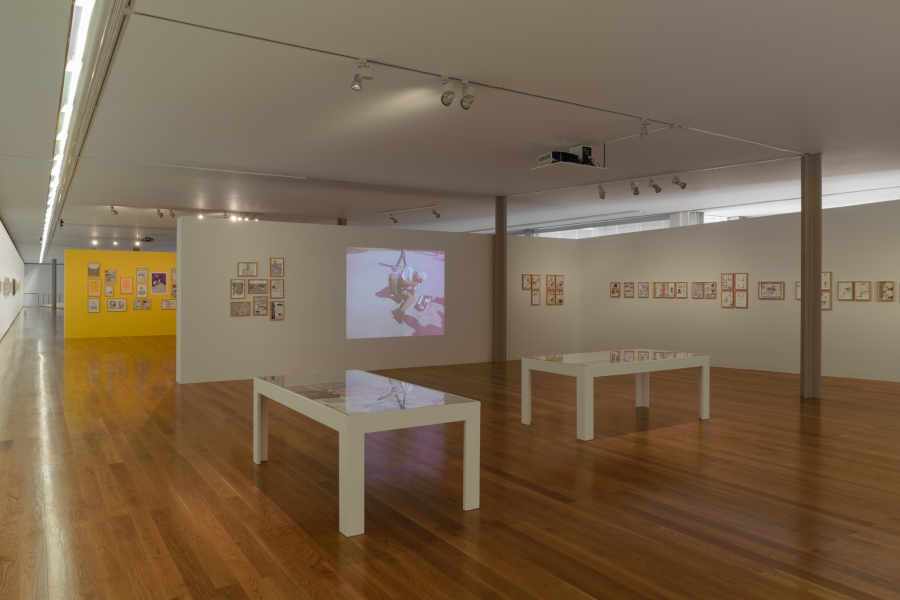 02.06 – 16.08.2020
APESAR DE NÃO ESTAR, ESTOU MUITO
DIOGO JESUS
Diogo Jesus has produced drawings, writing, comics and music under various pseudonyms for over a decade. Self‑publishing and editing fanzines and music at the age of 16 as RUDOLFO, he has created over 40 independent publications and participated in various anthologies of comics in Portugal and abroad, as well as collaborating with a variety of artists, musicians, and writers. Curated by João Ribas (former director of the Serralves Museum and curator of the Portugal Pavilion at the 58th Venice Biennale, 2019), the exhibition features the artist's autobiographical obsessions and distinct take on popular culture. The cast of people, mutants, aliens, and everything in between found in his drawings and comics provide an ongoing commentary on questions of creativity, gender and masculinity, and the conditions of making art, while pushing the boundaries of the genres of the comic book. Apesar de não estar, estou muito collects drawings, objects, videos, and writings from a variety of the artist's projects and publications since 2007, from his first independently published underground comics, to his recent projects as DJ Nobita and Gekiga Warlord, all defined as much by sardonic humour as eviscerating honesty.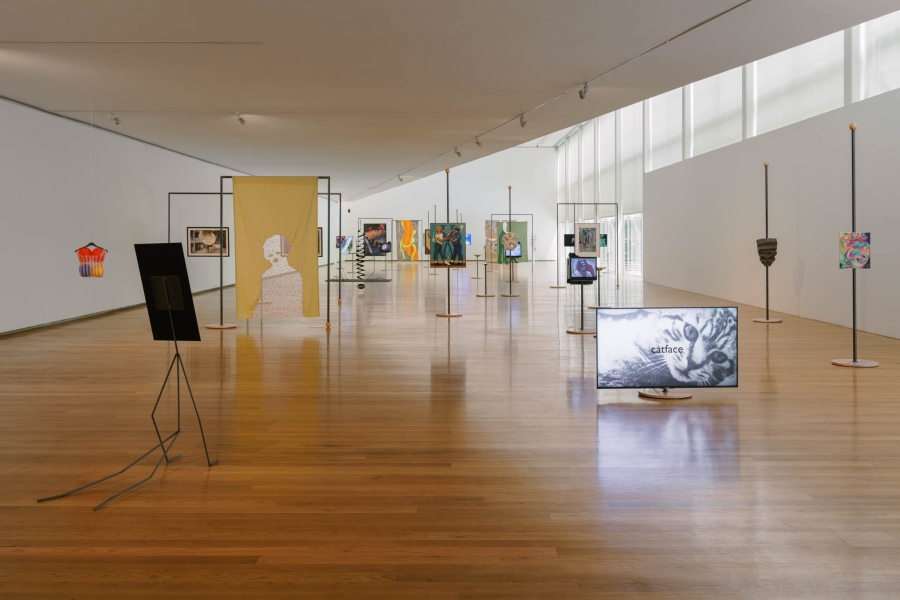 02.06 – 16.08.2020
MÁSCARAS (MASKS)
Masks have a longstanding place in the history of societies. As a symptom of a time of extreme change, masking techniques have gained a renewed traction and urgency, materialising in a number of guises. From online avatars used for activism, entertainment or propaganda, to different dynamics that empty or occupy our streets, our everyday ritualised life is now filled with practices of caricature, camouflage, disguise, face-swapping, masquerade, mimicry, protection, ridicule, social makeup and transformation, among others. João Laia (chief curator of exhibitions at Kiasma Museum of Contemporary Art) and Valentinas Klimašauskas (curator and writer, co-curator of the Latvian Pavilion at the 58th Venice Biennale, 2019) propose a look into the ongoing radical reshaping of our multiple historical, sociopolitical, sexual and transcendental identities, inquiring about the current processes in which we shape-shift from one to the other.
Curated by:
Valentinas Klimasauskas
João Laia

Artists:
Caroline Achaintre
Bora Akinciturk
Evgeny Antufiev
Jakub Choma
Joana da Conceição
Adam Christensen
echho + seashell
Justin Fitzpatrick
David Hall
Kiluanji Kia Henda
Sidsel Meineche Hansen
Elena Narbutaitė
Joanna Piotrowska
Adrian Piper
Laure Prouvost
Jacolby Satterwhite
Cindy Sherman
Victoria Sin
Jonathan Uliel Saldanha
The Dazzle Club
Amalia Ulman

Photo:
Dinis Santos